Upgrade to a Pro plan
Overdub custom voices require a Pro or Enterprise account. If you have not yet upgraded to a Pro plan, open the Descript desktop app and go to the Overdub tab in your Drive View (File > Open Drive View).
Enterprise Plans
Users interested in learning more about Enterprise plans and pricing may fill out the Enterprise Contact Form to speak with a member of our team.
Select the Pro plan, desired billing cycle, number of user seats and monthly transcription limit, then add your credit card payment information. Once complete you may click the Update button to finalize the transaction.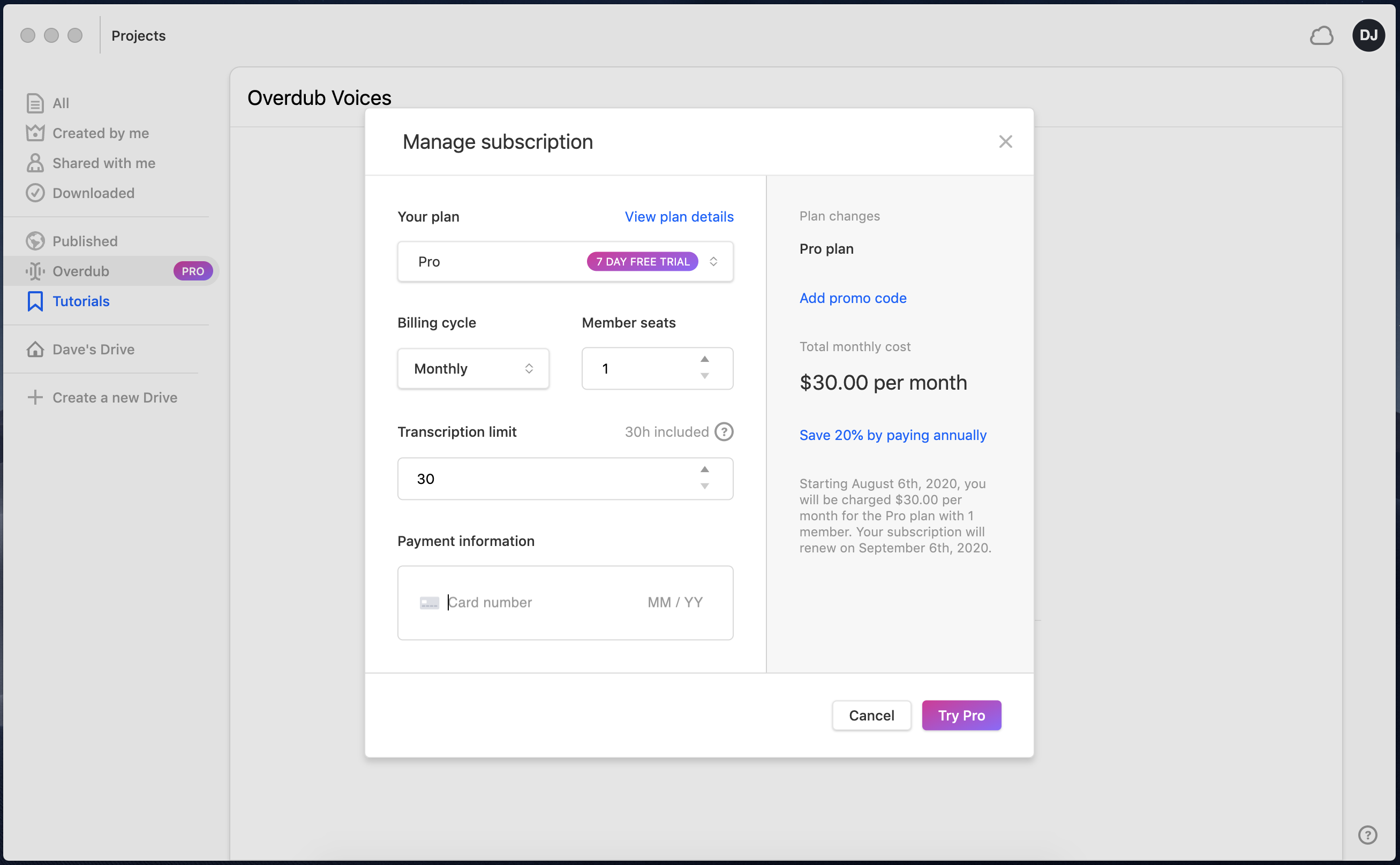 7-Day Pro Trial
First-time users will automatically receive a 7-day free trial after which the Pro plan will automatically be renewed unless downgraded before the end of the trial.
Create a new Overdub Voice
Once you are a Descript Pro subscriber, you may click on the Get started button on the Overdub Tab.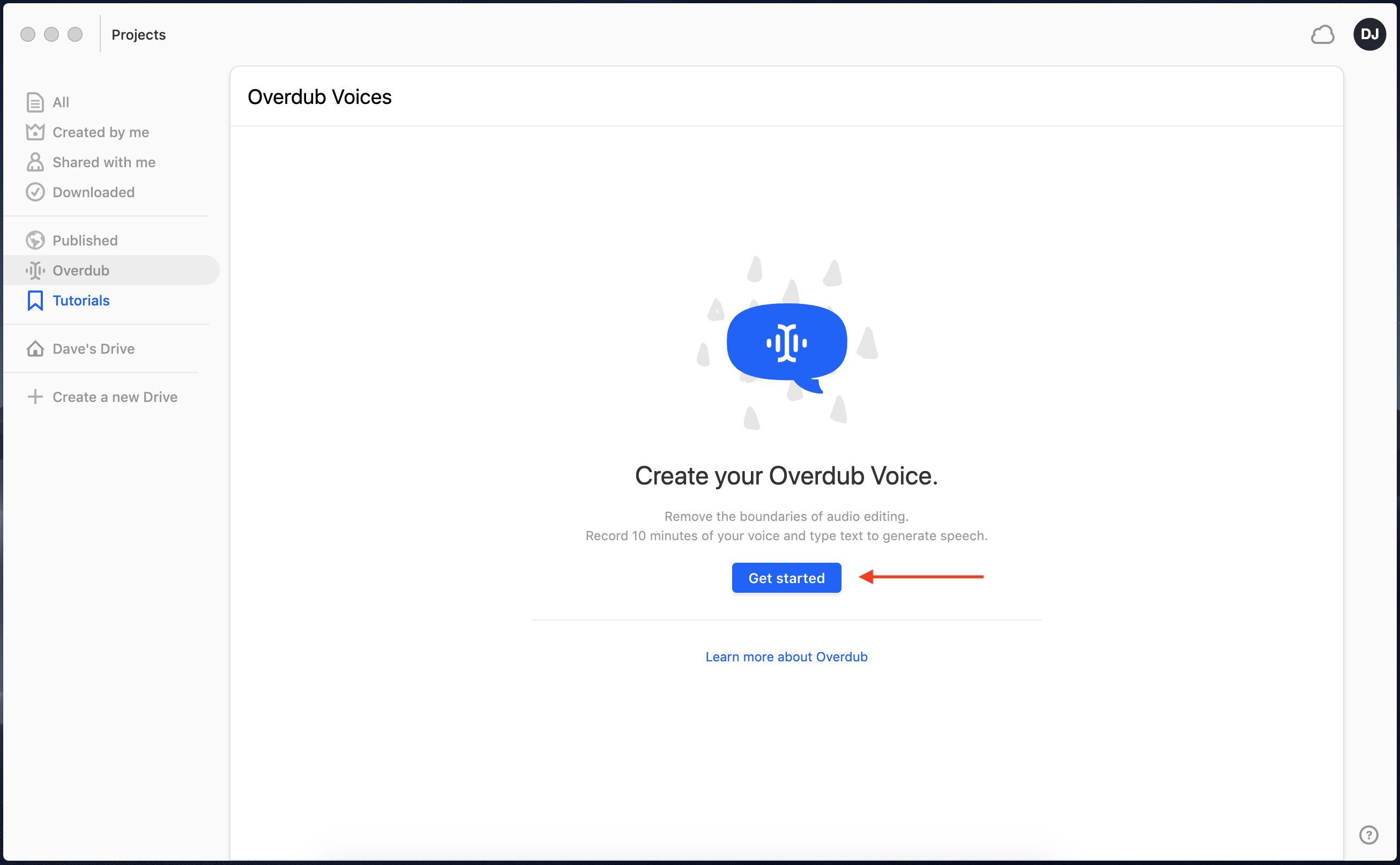 Select the Record it live button.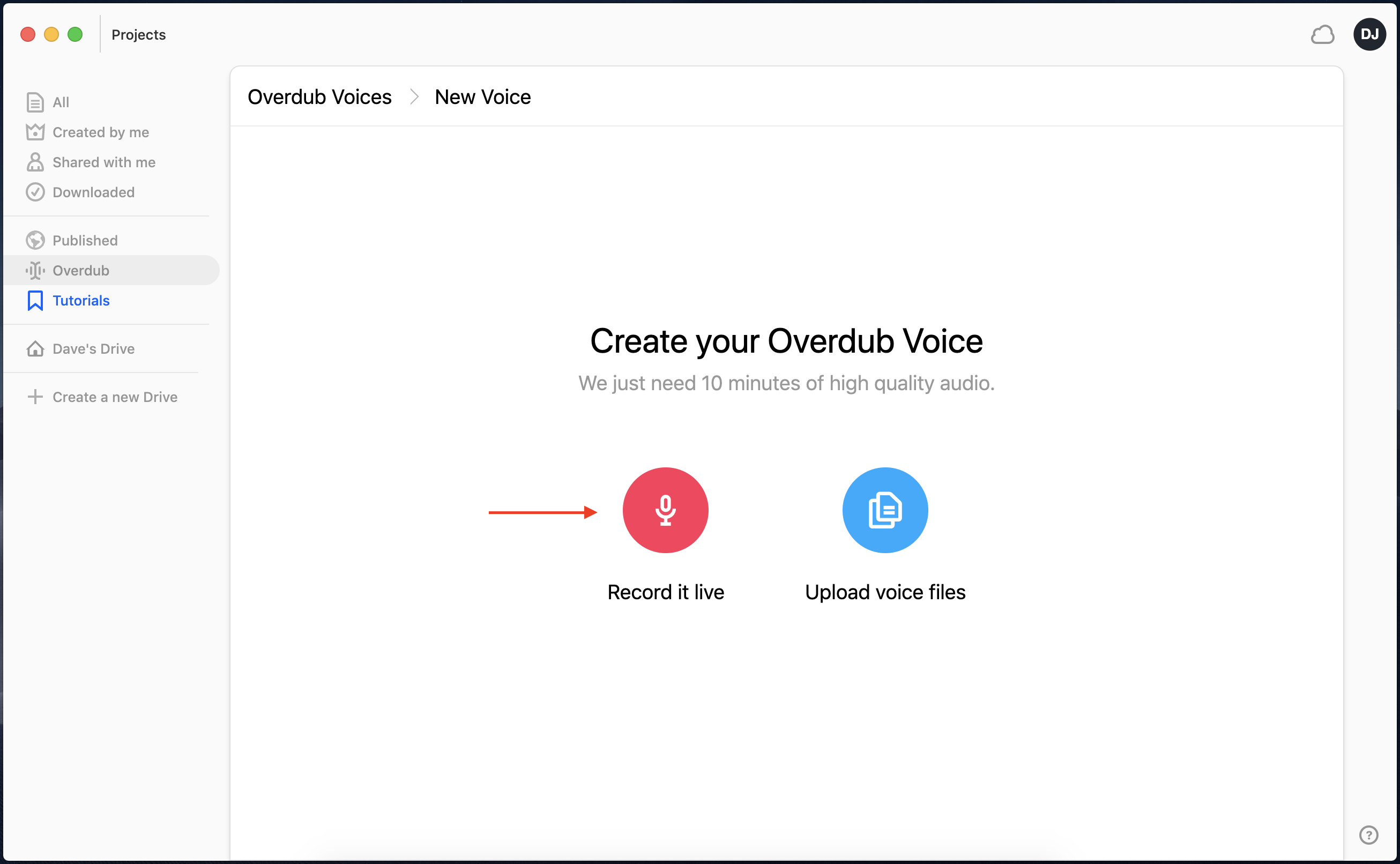 Importing the Training Script
If you've already recorded the Main Training Script in a different recording software, you don't need to re-record it in Descript - you can just import it into the Record Here composition, transcribe it, then submit for verification. However, be aware that the recorded audio must still exactly match the Main Training script, including the consent statement, otherwise it will fail verification.
Name your new Overdub voice and click Confirm.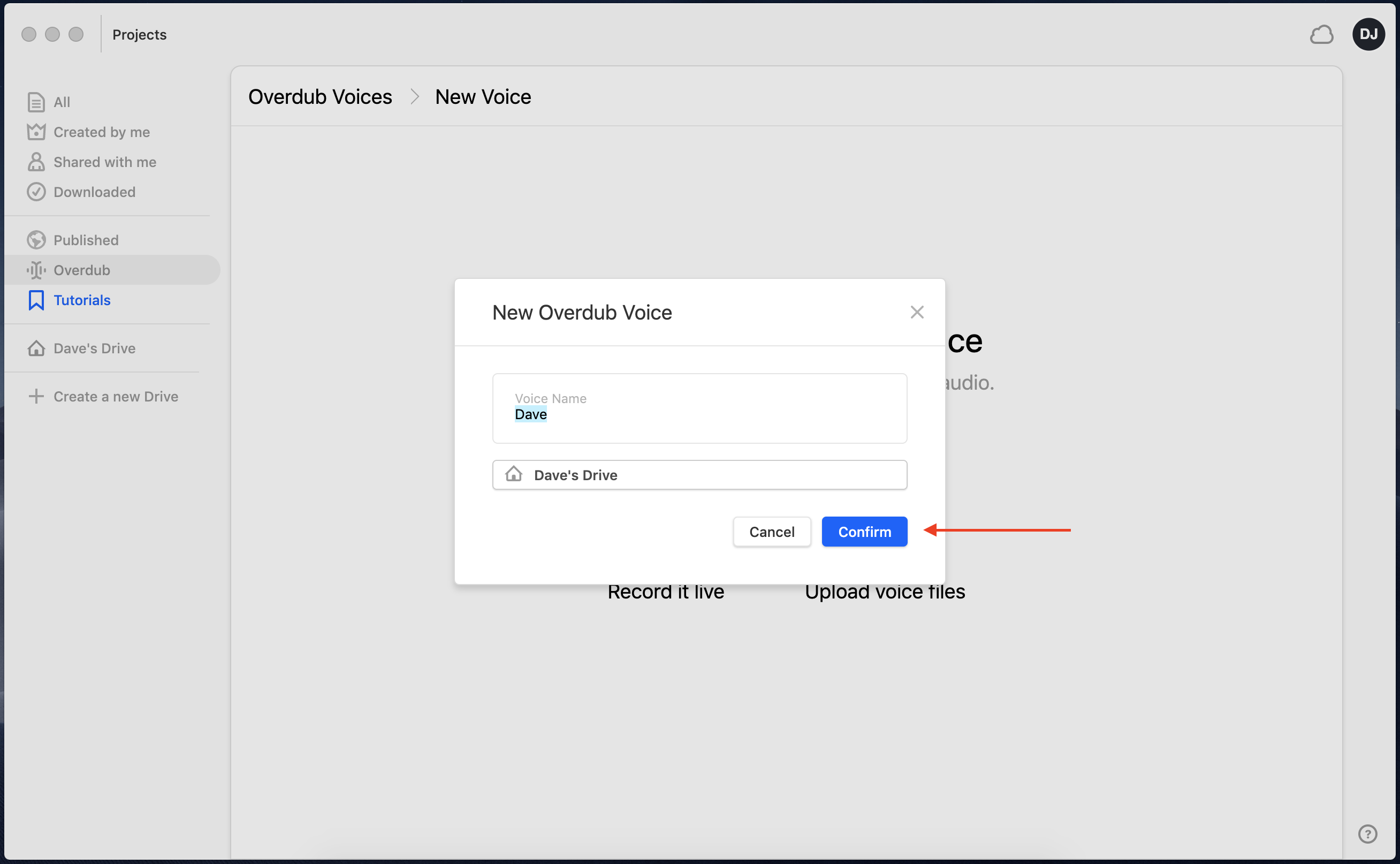 A special Overdub training project will open where you will record your voice training data. Open the 'Overdub Main Training Script' article and review the consent statement, main script, and supplemental training scripts.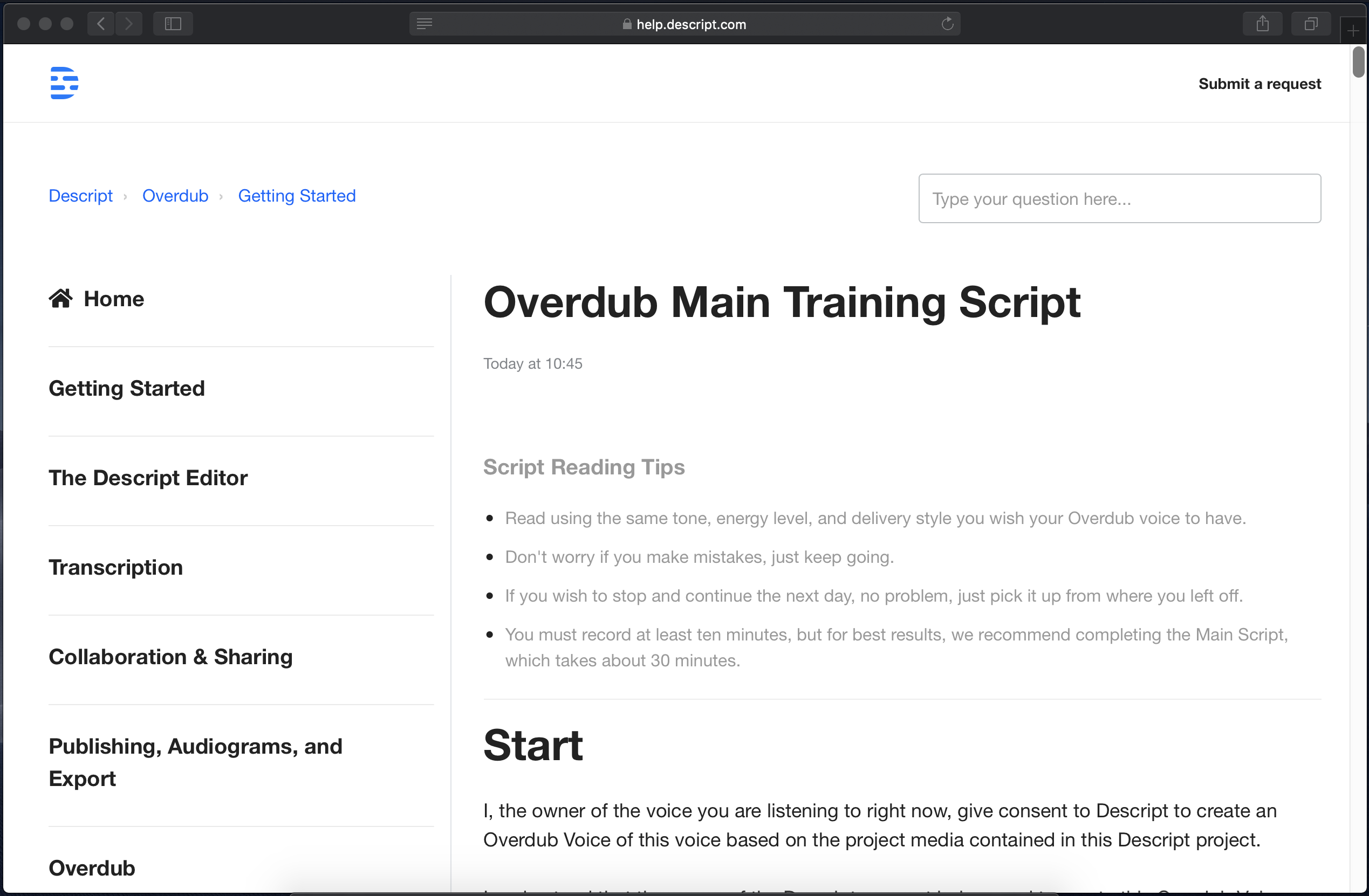 Record your voice
When you are ready to start recording, click on the microphone icon on the top.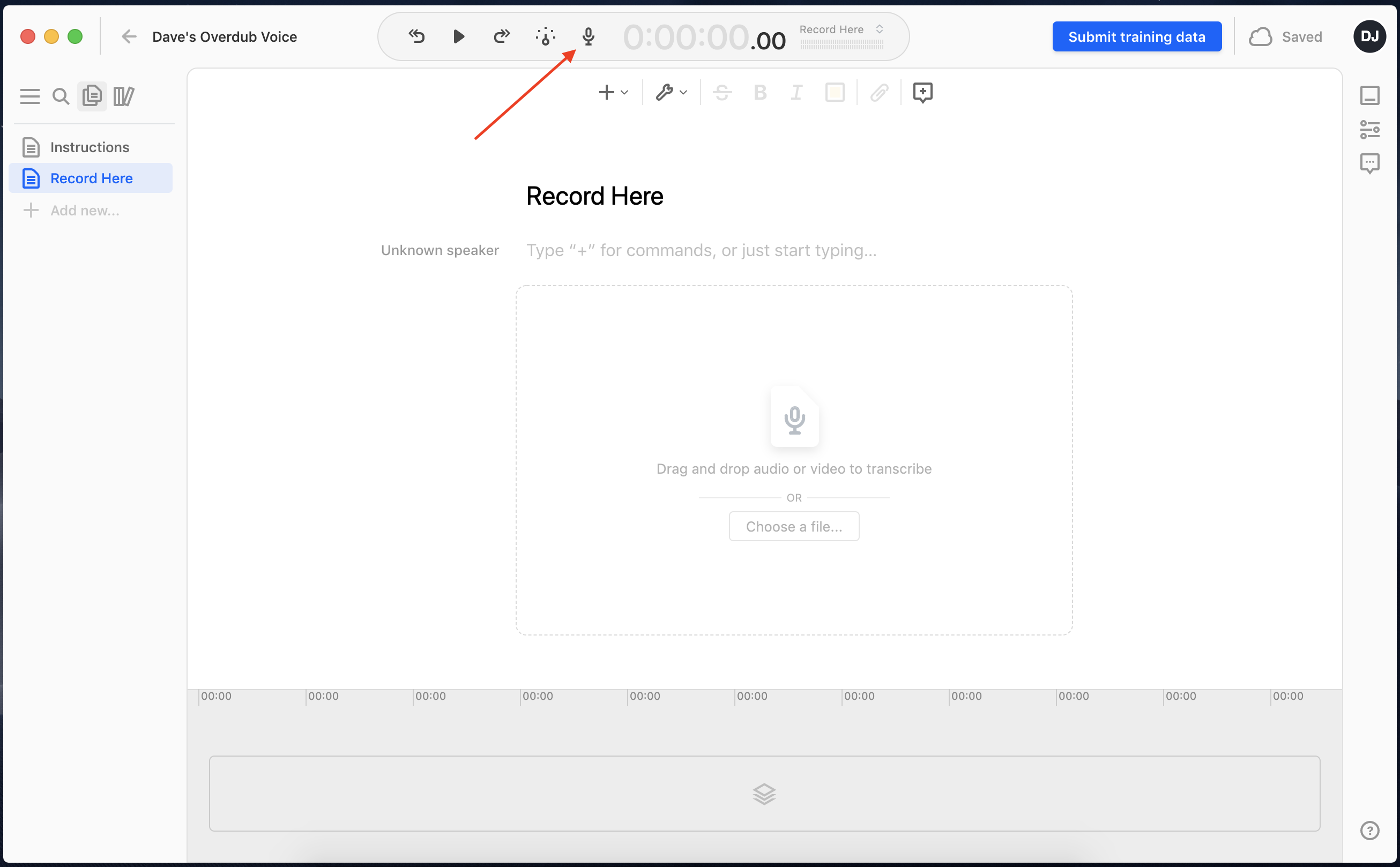 Click at the gear icon, and make sure to select the correct microphone.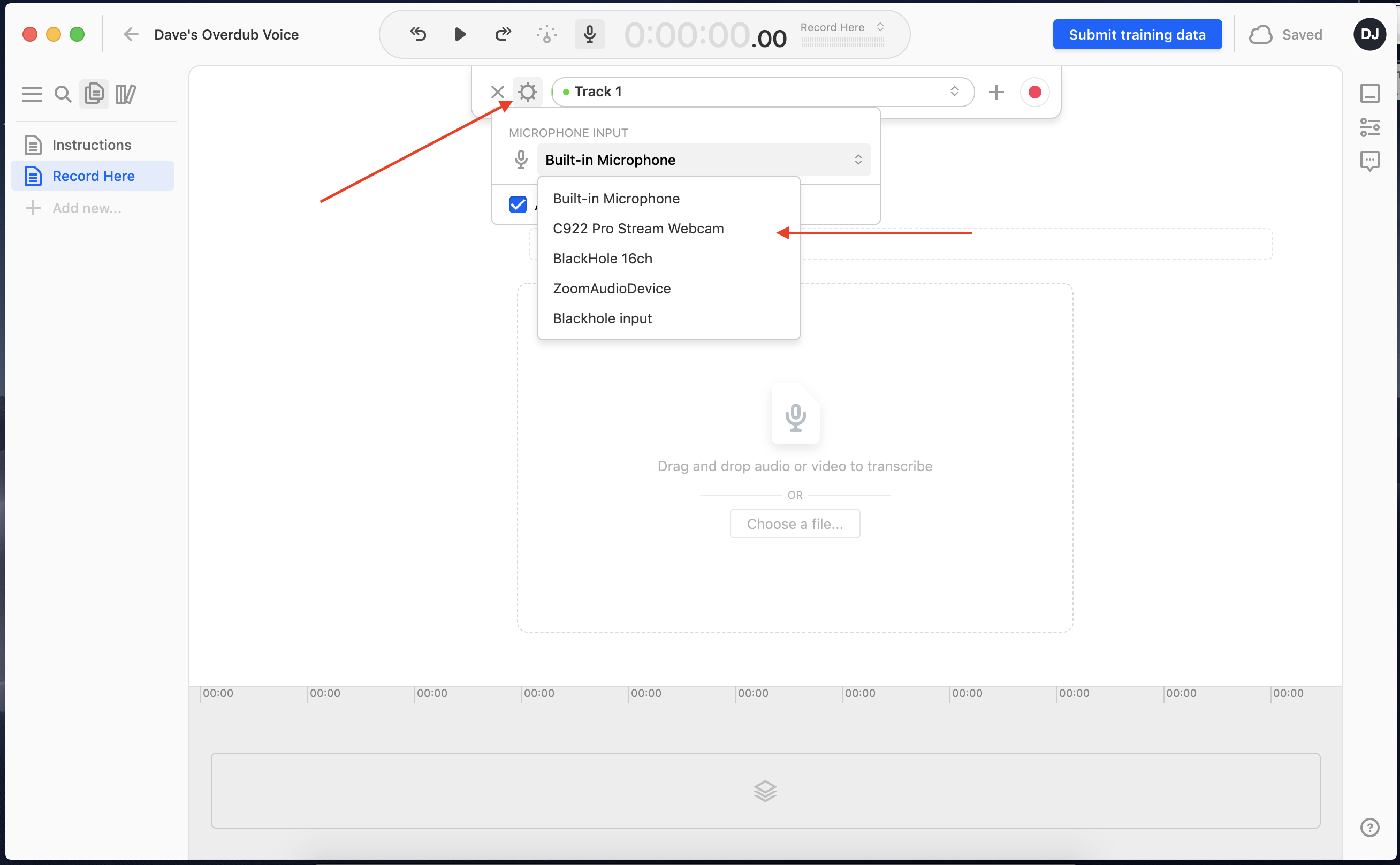 To start recording, click on the red button. If your recording settings have the "Automatically transcribe recording" box checked, you will see the transcript appear on the screen as you read the training script. If the checkbox is unchecked, then your recording will begin transcribing once the recording is complete.
In order for your Overdub training to be accepted you must record the following in order:
Consent Statement
Overdub Main Training Script (10 minutes at least)
Overdub Training Script - Supplement #1 (Optional)
Overdub Training Script - Supplement #2 (Optional)
Your Overdub Voice will begin working with as little as 10 minutes of recording, but for production-quality results, we recommend at least 30 minutes. For the best possible results, we recommend 90 minutes of recording.
Once you are done with reading the training script, click again the red button to stop recording.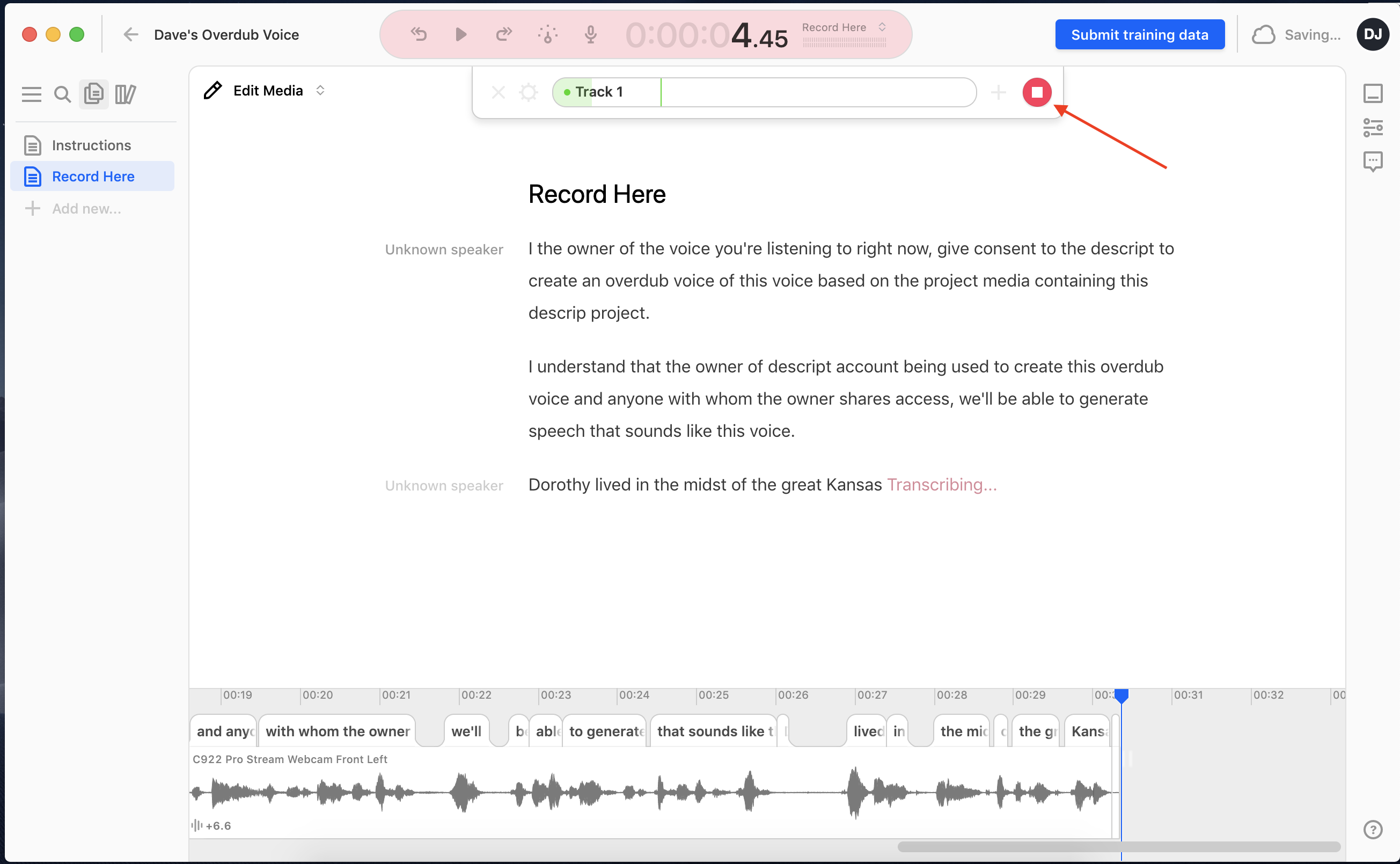 Recording tips
Descript is able to handle occasional errors in your spoken audio, so feel free to continue recording even if you make the occasional mistake or mispronunciation. The important part is to speak clearly and naturally as if you're speaking to your audience/subject so the resulting voice and cadence match your voice. More recording suggestions can be found in our article Overdub Voice Quality Tips.
Submit your training data
Click the 'Submit training data' button. Select the 'Record Here' composition for the menu and click submit.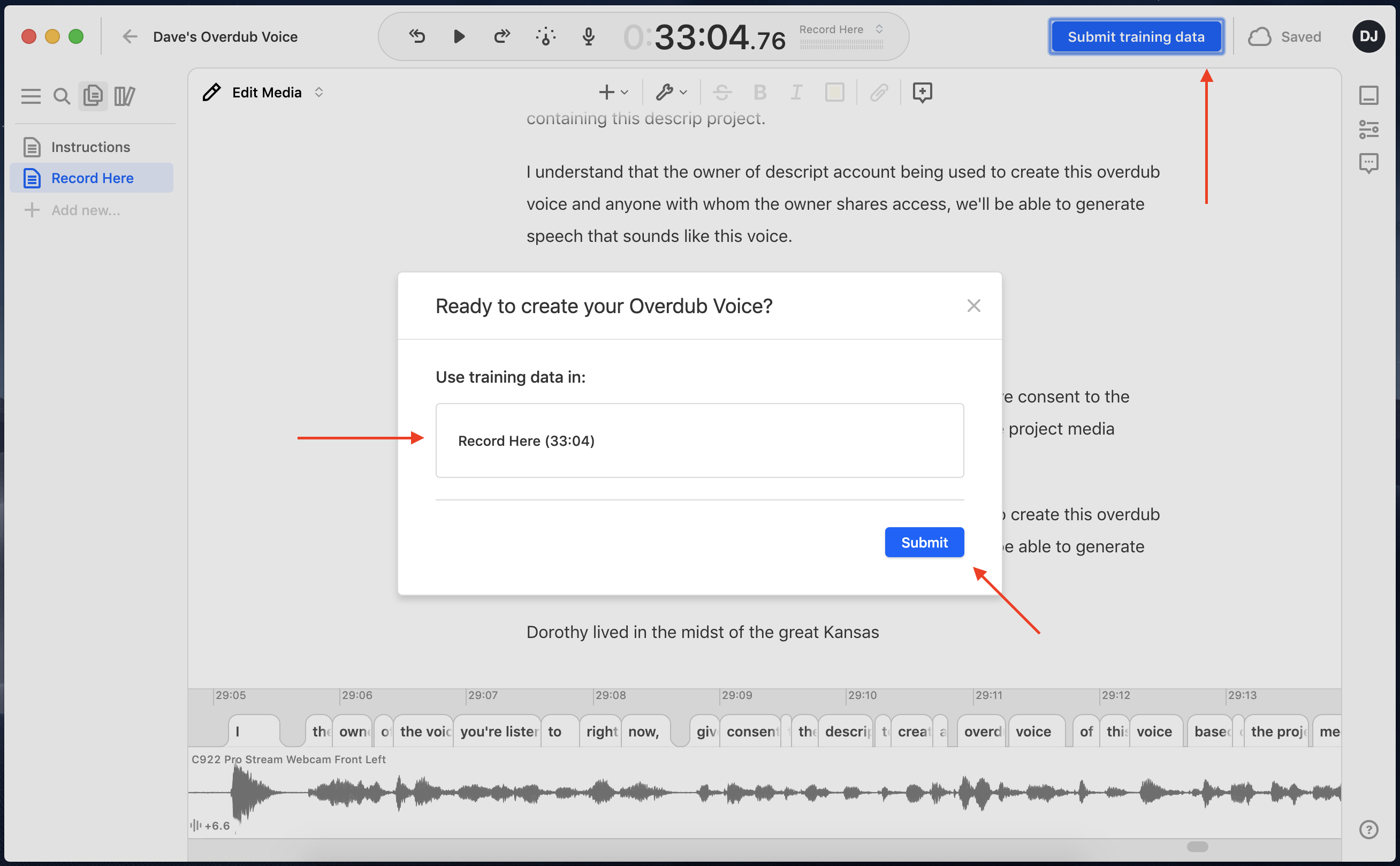 Custom Recordings
For users on a Pro plan, the training audio must exactly match our training script in order to pass our automated voice verification process. Users interested in submitting custom audio can read through our Enterprise - Overdub article for details.
That's it, your voice is now being created. It usually takes 12-24 hours. We'll send you an email as soon as it's ready to start making Overdubs.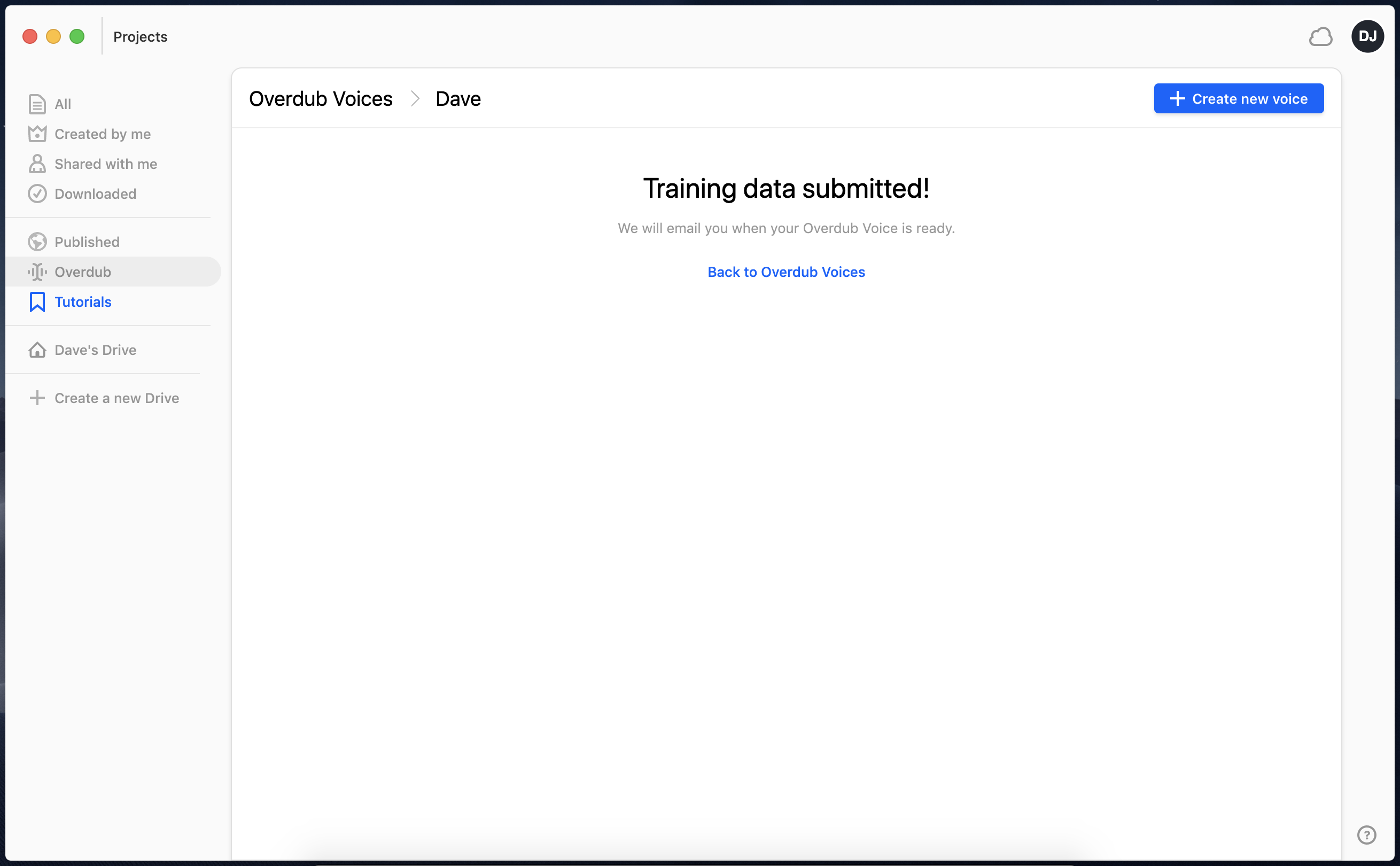 Learn more about Overdub
Check out other articles on our help desk to learn how to use it effectively. Starting with our Overdub Video Tutorial.