Create a new Overdub Voice
Click on the Overdub tab in your Drive View (File > Open Drive View), then select Get Started.
If you've already created a voice previously, click the blue + Create new Voice button in the top-right corner. You'll be prompted to add a name for your new voice, then click Confirm when complete.
You'll be directed to a new Overdub training project that includes instructions for how to create your voice on the right-hand sidebar.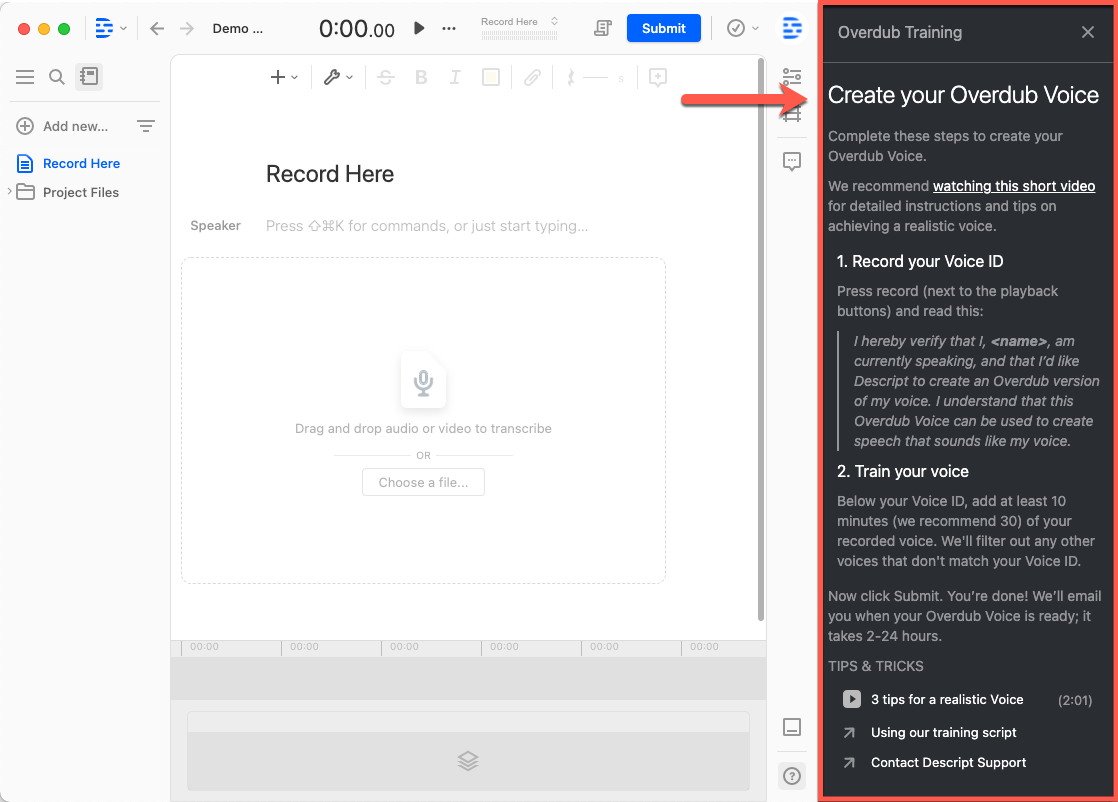 Add training data
The first step is to upload or record your training data. You may do so in one of 3 ways:
Recording tips
Descript is able to handle occasional errors in your spoken audio, so feel free to continue recording even if you make the occasional mistake or mispronunciation.
Speak clearly and naturally as if you're speaking to your audience/subject so the resulting voice matches your normal speaking voice.
For pre-recorded content, we recommend that each audio file contain similar recording conditions and expressiveness for best results.
More recording suggestions can be found in our article Overdub Voice Quality Tips.
Record your Voice ID and Submit
Once complete, you may click the Submit training data button.

You will be prompted to record your Voice ID consent statement. Click the Record button and read the displayed statement, then click the stop button once complete: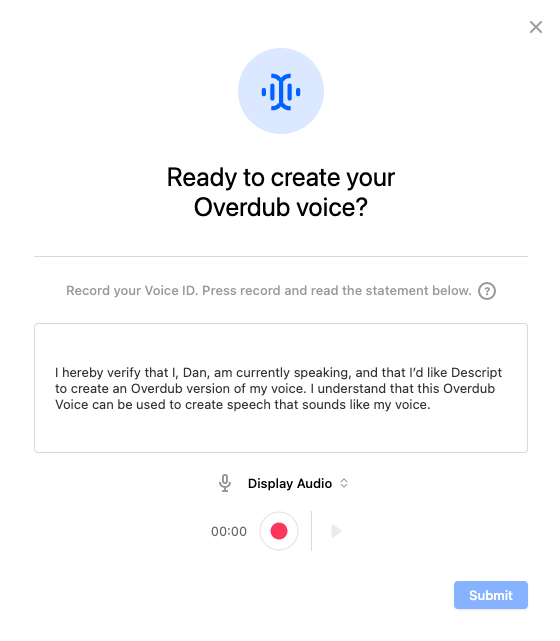 You may now click the Submit button to start the training process. Please note that it may take up to 24 hours to complete the training. We'll send you an email as soon as it's ready to start making Overdubs.
Retrain your Voice
Once your Overdub voice has finished training, you may go back at any time to add, remove or re-record your training data. Once complete, you may click the Submit training data button again and you will be prompted to either update your Voice ID, or Submit to retrain your voice.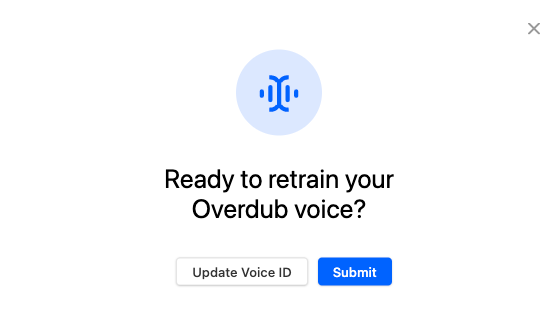 Learn more about Overdub
Check out other articles on our help desk to learn how to use it effectively. Starting with our Overdub Video Tutorial.
Frequently Asked Questions
Do you have any pre-written scripts I can use for my training data?
If you do not already have a script, you may record your voice using our Main Training Script.
How can I access the training instructions if I've closed the sidebar?
If you've closed the instructions and want to view them again, click the Instructions button at the top of the project.
Why am I receiving an error message "At least 10 minutes of audio is required" when submitting my Overdub Voice?
You may see this error if the timeline contains less than 10 minutes of recorded audio. You must add or record additional voice training data for your voice before re-submitting.