Descript makes it easy to manage how collaborators access a project. Invited collaborators can perform many functions that Drive members can on a given project, like correcting a transcript, editing content, and exporting a finished composition.
Inviting collaborators to a project
You can invite someone to edit or comment on your project from the Drive view or main editor:
Once you've opened the project access panel, type your collaborator's email, choose the users' project permissions, and select invite to project.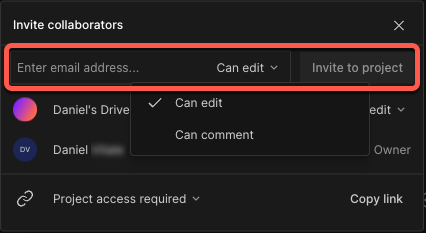 The user will receive an email notification that they have been invited to the project.
Users given project access can't initiate transcriptions
Transcription is a feature only Drive members can use. If you would like your collaborators to be able to add and initiate transcription, please see our inviting drive members and drive membership types articles for details.
Setting permissions for collaborators
You can choose from two levels of access when inviting collaborators: editing or commenting only. If you want to change the access level for a collaborator, click on the text to the right of their name and choose the desired setting.
You can set the level of project access for each respective collaborator as you send out your invites, or you can make adjustments after you've sent them.
Setting project access for your drive members
You can set the level of project access you want other drive members to have for individual projects:
Once you've opened the project access panel, set the project access level for the Drive member at the bottom of the panel.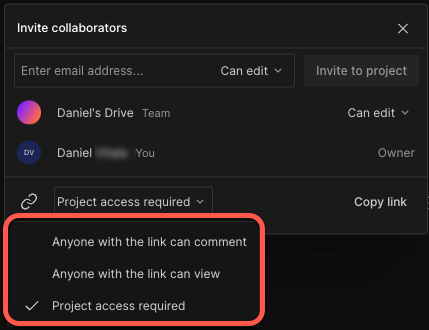 Removing a collaborator from a project
To remove a collaborator from your project, use the dropdown menu next to their name. This is the same menu where you select Can edit or Can comment. Then, click Remove member.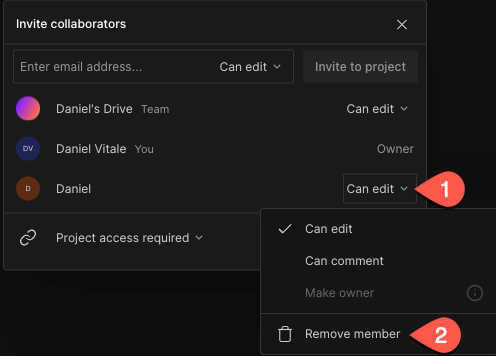 Double-check the setting you've chosen for the project link. If it's set to can comment or can view, the collaborator you've removed may still be able to access your project.