If you find yourself having difficulty signing in to Descript, this article provides a number of solutions to common issues.
Common error messages
"Wrong email or password"
This error message can appear for a number of reasons:
The username or password has been mis-typed

Try re-typing, or type into another document then copy and paste to assure correct spelling

The username does not exist as an account in Descript

This is an issue common for individuals who maintain multiple personal or work email addresses. Please make sure you are using the email address you originally signed up with.

The account was set up originally using Sign in with Google

Please instead click the Sign in with Google button and authenticate using your Google credentials.
"Your account has been blocked after multiple consecutive login attempts."
You may receive this error after 10 login attempts.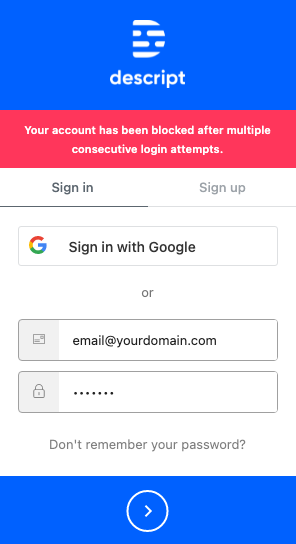 Descript will send an automated message to the email address on file providing details with the subject line:
"Suspicious activity on your Descript account."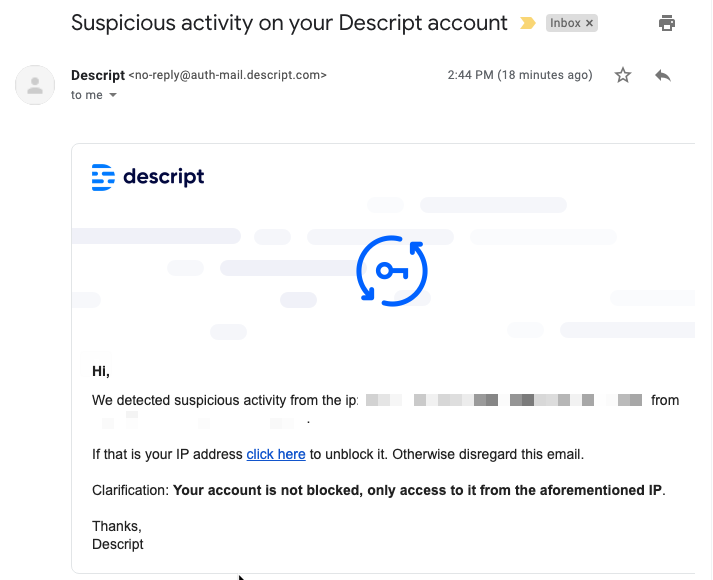 Click the click here link in the email to unblock access for your IP address. Then, you'll be redirected to a confirmation page stating the account has been unblocked: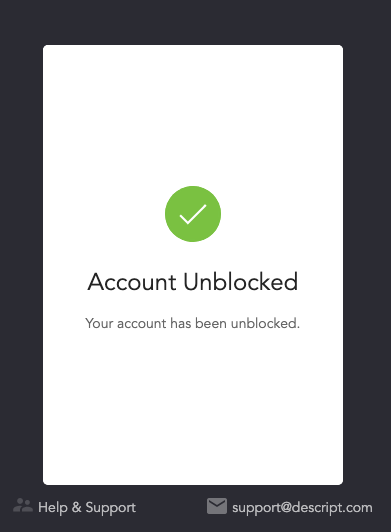 At that point, you are free to re-attempt signing in, or if you are still having trouble remembering your email address, you can reset your password.
Password reset email not received
This issue can be caused by a number of reasons:
The account was set up originally using Sign in with Google

Descript cannot reset your Google password. Please use the Sign in with Google button to sign in with your Google credentials.
If you do not remember your Google password, this Google article provides some steps for what to do next.

Your email provider is flagging the password reset email as spam

Make sure to check your spam folders for any reset emails.

Your email provider is blocking password reset emails (uncommon)

This typically only occurs for individuals using a business-hosted email service. Reach out to your IT team for further assistance.