By default, Descript comes with a number of great fonts to spice up your text clips. But if you need to use a specific font, Descript allows you to choose from Google's vast library of free fonts or import a custom font file on your computer. (Note: uploading a font is only available for Pro and Enterprise users.)
Fonts are drive-specific and accessible by all drive members.
After adding a custom font to a project, this new font will be available for all the drive members where that project is stored. If you are a member of multiple drives and want to use that font in all of them, you'll need to add the font to a project in each drive.
Adding a Google Font
Add a text clip to your

composition

and make sure it's selected.
If you know the name of the font you'd like to add, enter it in the Search for a Google Font... bar and select it when it appears in the dropdown menu. Then click Add to Drive.
If you don't know the name of the font you'd like to add or want to search for something new in the Google fonts library, click the Browse Google Fonts button. Browsing fonts will open a new browser window with all available Google fonts. Once you find a font, type the name into the search bar in Descript and click Add to Drive.

Importing custom fonts from your computer
This feature is available to Pro and Enterprise users
Pro and Enterprise users can also import custom font files from their computer directly into Descript. To do this:
Add a text clip to your composition and make sure it's selected.
From the

Properties Panel

, click the Font dropdown menu, and select + Add fonts to Drive.
Drag and drop files
You can also drag and drop your font files directly into the Add fonts window.
Descript will automatically detect whether a font is italic or not. Click the Pencil icon to change the italic categorization or rename the font if necessary.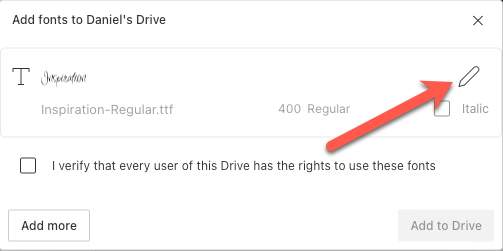 Next, click the checkbox to verify that all users have rights to use the imported font, then click Add to Drive to import the font.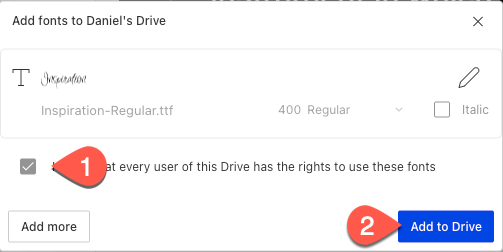 Supported font files
Descript can import both .TTF and .OTF files.