You can "non-destructively" export a composition to a format that can be opened in most major audio and video editing tools. This is different than Descript's normal Export audio feature; when you export a Timeline:
You get a folder with an exported copy of your source files.
Your original files are preserved.
The edits and regions in Descript carry through, so you can still tweak trims, etc.
Timecode values that were present in your source files are preserved in the media assets in the timeline export folder destination.
You can access the timeline export feature by clicking Publish, selecting the Export tab and then choosing Timeline from the list of options.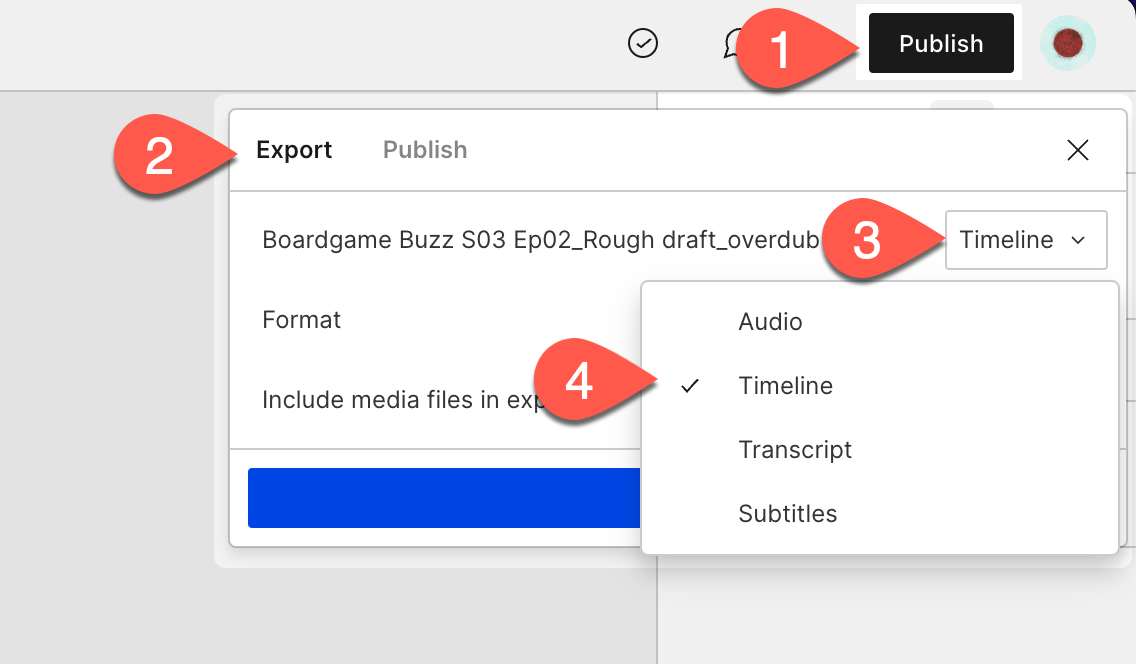 | Setting | Description |
| --- | --- |
| Format | Set the file format for exporting to Pro Tools/Logic (aaf), Audition (sesx), Samplitude/Reaper (edl), Final Cut Pro X (fcpxml), or Premiere (xml) |
| Include media files in export | Includes the project files used in your composition in the exported folder |
| Create track for each file | Not available when exporting to a Final Cut Pro X file |
| Logic compatibility | For exporting an xml file for Logic Pro; strips spaces from filenames |
Considerations when exporting to Pro Tools
Some Pro Tools editions do not support AAF file exchange. Please see Pro Tool's plan comparison for more details.
XML Interchange Feature Chart
| Feature | Final Cut Pro X | Premiere Pro |
| --- | --- | --- |
| Audio effects | No | No |
| Audio keyframes | No | No |
| Captions | Yes | No |
| Clip speed | No | No |
| Clip trimming | Yes | Yes |
| Frame rate conversion | No | Yes |
| HDR tone mapping | No | No |
| Images | No | No |
| Loops | No | No |
| Markers | Yes | Yes |
| Automatic microfades | No | No |
| Room tone | No | No |
| Scenes | No | No |
| Sequences | No | No |
| Shapes | No | No |
| Speed | No | No |
| Studio sound | No | No |
| Titles | No | No |
| Transitions | No | No |
| Video clips | Yes | Yes |
| Video effects | No | No |