Invite your team members to your drive to edit and create content together in Descript. There's no limit to the number of members you can be invite to a drive; you can add them by sending an invitation, or by sharing a drive invite link.
Drive membership and billing
Descript charges an additional subscription fee for each editor member added to a drive (basic members can be added at no additional charge - See Drive Membership Types). All membership charges for a drive are billed to the drive owner, not the drive member. See our pricing page for more details.
Send an invitation
Log in to your account from the app or sign in to Descript online. If you're a member of multiple drive, make sure to switch to the correct drive before inviting a member.
Open

Add members.
Choose to invite them as a Basic or Editor member.
Enter your collaborator's email address, and select Send invite.
Once you invite someone, they'll get an email and need to accept the invitation

.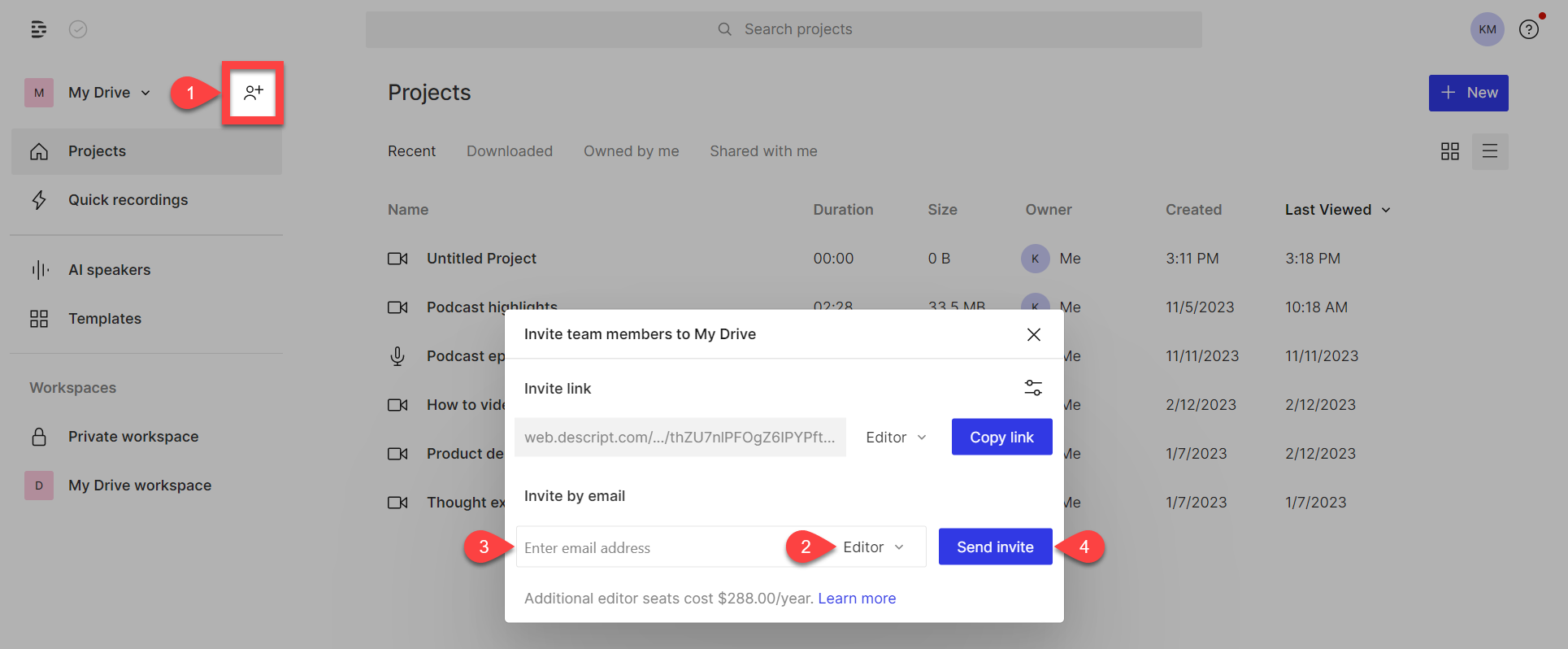 Drive invite links
Drive members can also invite other users to your drive using a drive invite link. A drive will have one link for editors and another link for basic seats. As the drive owner, keep in mind that you can enable manually approving new editors added to your drive.
Sharing the link
Log in to your account from

https://web.descript.com/

or the app.
Open

Add members.
Select the member type — Basic or Editor — you want for the link.
Click

Copy link.
Paste and send the link to anyone you want to join the team.
Manage or reset drive links

The drive owner and editor members can reset the invite links; this will generate a new link and prevents anyone joining using the previous link. Drive owners can also enable or disable drive invite links.
Log in to the correct account from

https://web.descript.com/

or the app.
Open

Add members.
Click

and select

Reset invite links;

you'll permanently disable the current link and generate a new one.
Click

and select

Turn off invite links

to turn off invite links. Members can still invite collaborators by email.