You might already know that Descript's automatic transcription leads the industry in accuracy and speed. But for mission-critical tasks, when automatic transcription doesn't cut it, we also offer White Glove transcription: professional, human transcription at a highly-competitive rate — in just one click.
With White Glove you get:
Up to 99% accuracy
Timestamps and speaker labels included
An average turn-around of less than 24 hours (learn more)
The audio is linked to the text, so you can hear what you're reading, on-demand
$2 / min of audio
There is a 2 hour limit to the length of audio / video that can be submitted for each transcription. If you have audio or video media that is longer than 2 hours, you must edit the media file into multiple parts, so that each file is under 2 hours.
How to use White Glove
Create a new Descript Project by clicking the Add New button from your Project browser or going to the File menu and selecting New Project.
The app will prompt you to choose (or drag) an audio or video file to transcribe.
Drag in the file you'd like to transcribe with White Glove. You'll see a menu with several choices: Automated, White Glove, and Import Transcript.
Click White Glove. You'll see a price estimate for your file. When you're ready, click Transcribe to submit your audio for White Glove transcription.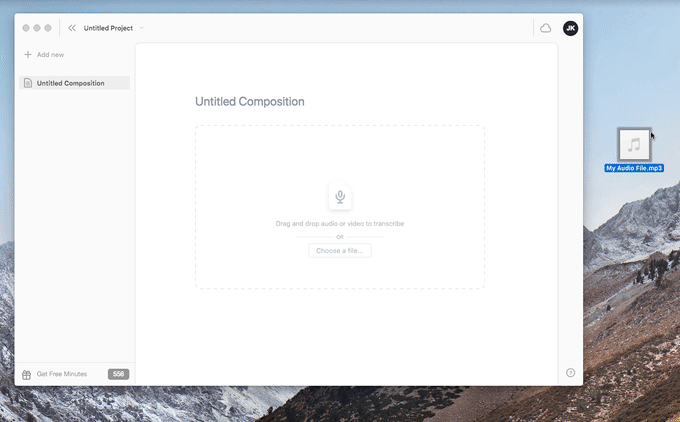 The app will upload your audio and initiate the White Glove transcription process, assigning it to a professional human transcriptionist. You'll know it's working when the app says, e.g. "Transcribing: Ready by Friday, November 8th."
You'll receive an email when your White Glove Project is ready.