You can export audio by clicking the Share button, the Export tab and then choosing Audio from the list of options.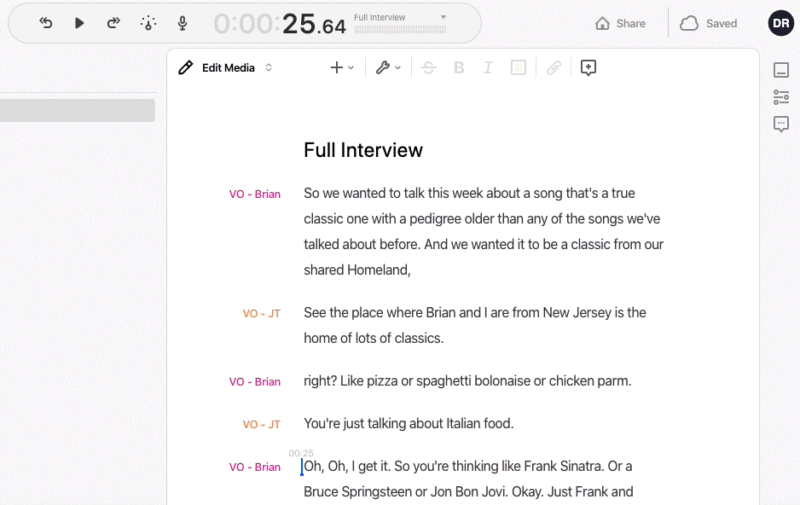 Export Settings
Descript provides lots of options when exporting your files to give you ultimate control over your final product.
Exporting
Choose which media you would like to export, including the option of batch exporting to multiple files.
Current Composition - This is the default behavior and exports your currently selected composition.
Current selection -Select a range of text in your composition to export as video.
Markers - Export individual audio files for each of the Markers in the currently selected composition.
Line breaks - Export individual audio files for each section of text separated by line breaks within your composition.
All Compositions - Batch export a file for each composition in your project.
Please note: batch export does not support converting audio-only files to video.
File Format
AAC (.m4a)
MP3 (.mp3)
Lossless WAV (.wav)
Channels
Sample Rate
Audio Bitrate (for AAC and MP3 files)
32 kbps
48 kbps
64 kbps
96 kbps
128 kbps
160 kbps
192 kbps
256 kbps
Normalize Volume
We've even made it possible to normalize your audio files when exporting. Here you will have the opportunity to select from the following types of normalization:
Off
Peak
-14 LUFS
-16 LUFS
-18 LUFS
-23 LUFS
-24 LUFS
When you're ready to go, click the blue Export button to create your file.
LKFS, LUFS, and Perceived Loudness
Looking to expand your knowledge warehouse with loads LKFS/LUFS goodies? Check out this article by Hugh Robjohns in the February 2014 Issue of Sound on Sound magazine, which provides a wonderfully detailed explanation:
The End of the Loudness War? - Sound on Sound
Frequently Asked Questions
What does "Failed to export video: Error: expected video timeline" mean?
If you are currently viewing a video composition, and you select a video export with "All Compositions", you will receive this error when any of your other compositions is audio-only. Batch export does not currently support exporting audio-only compositions as video files.