AI Actions make your workflow more efficient and enjoyable. Think of AI Actions as your creative sidekick, always there for time-saving shortcuts, helpful suggestions, or wide-open brainstorming. This article will provide an overview of AI Actions and how you can use them.
Using AI Actions
Generate an AI response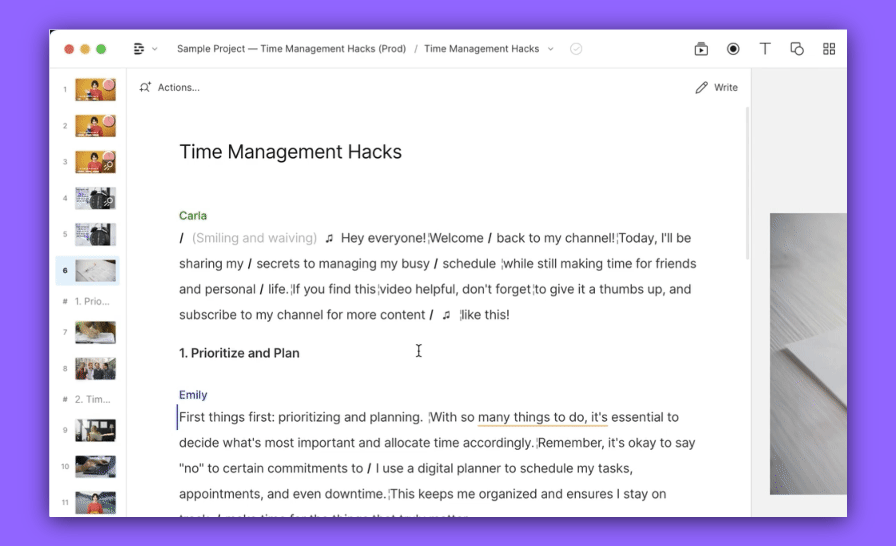 Open or create a project.
Open the Action bar at the top of your project's script editor.
Choose Ask AI at the bottom of the panel.
Select an action from the list, or type in a custom prompt.
When you're ready, click or just press Return (macOS) or Enter (Windows).
Want to stop an AI Action?
If you realize the in progress AI Action is heading down the wrong path and you want to start over, just click Stop.
Using your AI response
After you generate an AI actions response, you'll have a few ways to go (but note: not every option is available for every action):
Ask AI to refine your response—as a different way, enter a more specific prompt, or whatever will help you get closer to the response you're hoping for.
Add to script—automatically insert the response into your script.
Copy to clipboard—copy the response text so you can paste it into emails, websites, social channel, or anywhere.
Copy to new composition—create a new composition in your project, and paste in the response into the new composition.
Try again —clear out your response and start a new AI Action. New actions will contain the original prompt to start.
Close—close the Action bar.
AI Action responses are not saved
For now, you cannot access previously generated AI responses. If you choose Close or Start over, you will not be able to recover your response; you'll need to generate a new one.
Navigate responses
If you chose to refine your response, you can navigate through your responses within a single AI Actions session. So if you liked an older response better, or just want to compare results between follow-ups, you can review all responses so far, or try a different approach for a previous response.
AI Actions
Edit: streamline your editing process with tools for adding chapters, removing filler words, shortening word gaps, and organizing scenes by the active speaker.
Find: effortlessly locate engaging clips and specific script elements with AI-driven tools for content analysis and targeted searching.
Publish: speed up your publishing tasks with AI tools for creating podcast show notes, YouTube descriptions, social media posts, concise summaries, and blog content.
Write: facilitate your writing process with AI assistance in generating, improving, brainstorming, outlining scripts, and optimizing script length.
Things to know when using AI Actions
There are a few important disclaimers to keep in mind when you use AI Actions in your projects.
Quality of content: AI can produce factually incorrect, offensive or just plain weird results. We think of AI as a useful tool, but don't recommend trusting it blindly.
Privacy: Descript never shares your data with any third parties to train AI models. While we use the best available models out there as part of our AI offerings, we've negotiated agreements with them to ensure your data is never used to train their models.
Tracking: Descript uses your actions in the app—like accepting, regenerating, or rejecting an AI Action—to improve our own products  and AI models. This never includes your actual audio or video, it's just standard usage analytics. 
Consent: Descript will only use your actual project data—your transcript, audio and video—to improve our products and train AI models with explicit consent. That data will only be used to train Descript models, not for any third parties; it may be viewed by Descript employees or contractors to prepare for training AI models. You can always revoke this consent at any time in your account settings.