Eye Contact is an AI-powered video effect that will digitally rotate your eyeballs to make it appear that you're looking directly into the camera. So if you're reading a script that's just off camera, or looking at a teleprompter, or you get distracted by your cat making a TikTok in the kitchen, Eye Contact will keep your eyes locked on your viewer, making your video feel personal and engaging. Applying Eye Contact in Descript is simple, and in this article, we'll walk you through using the effect.
How to apply Eye Contact to a video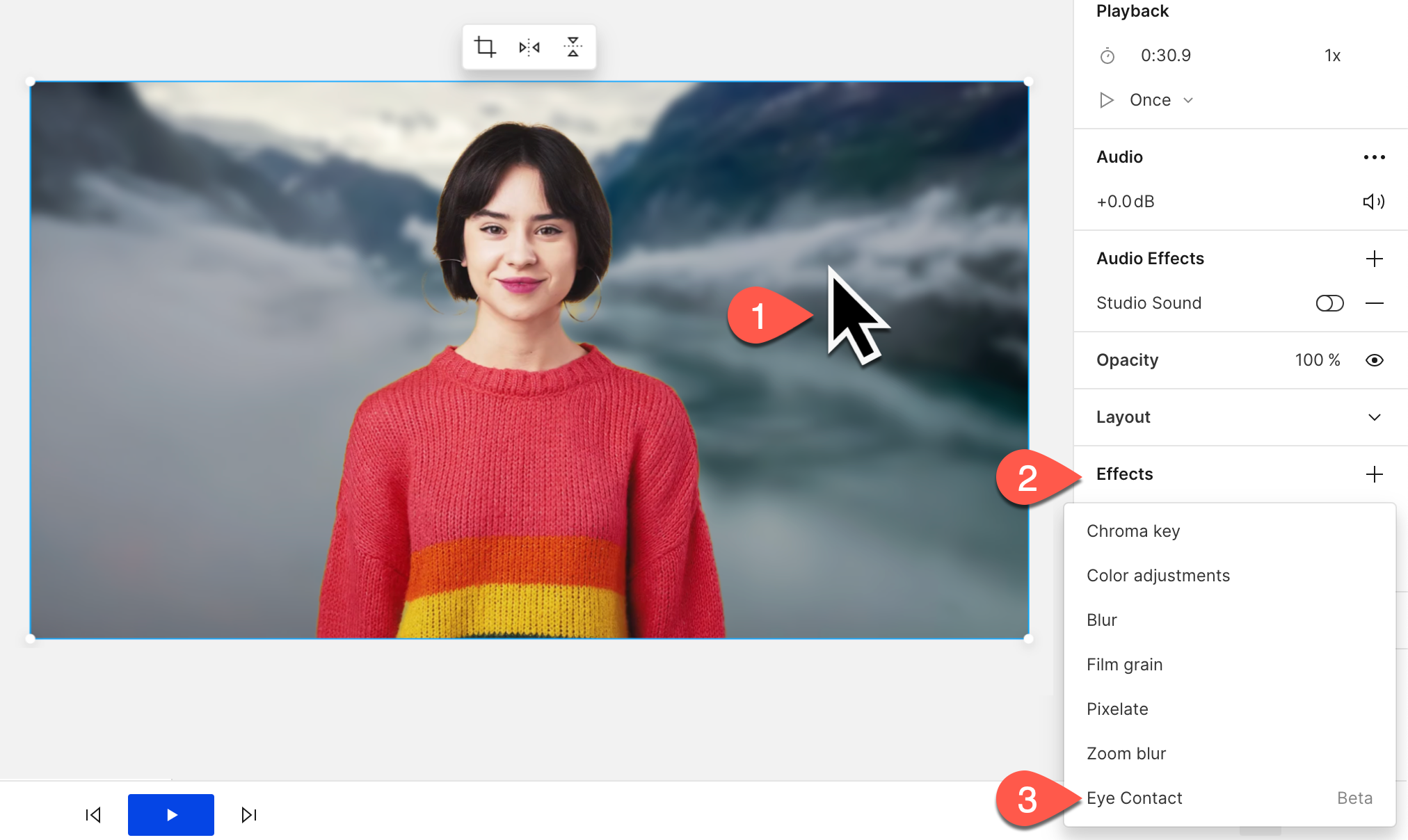 Before getting started
Make sure you are connected to the internet when applying Eye Contact; the effect processing happens in the cloud.
Upload or record your video — you can learn more about both in our Importing and transcribing files and Recording in Descript guides.

Select your

video

— you can do this from your Canvas,

 

Timeline, or from the

 

layer list

 

in the sidebar.

Apply Eye Contact to your video — with your video selected, select Effects + in the right sidebar. Look for "Eye Contact" and click to enable it. Please note: this is where you'll need an internet connection.

Wait for processing — once you add Eye Contact to a video, the application will begin processing your video. Descript is basically creating a new video file; the length of this process will vary based on your video's duration and your internet connection.

Enabling or disabling the effect — If you want to turn Eye Contact on or off during specific moments in your video; just create a scene and turn the effect on or off from the sidebar. If you remove the effect, you can add it back to the same video without reprocessing. 
Tips and Best Practices for Eye Contact on Video
For best results when using Eye Contact on a video, consider the following recommendations:
Use Eye Contact on videos of a single person with their eyes clearly visible.
Avoid excessive movement in the video.
Use studio lighting or other well-balanced lighting setups instead of back lighting for optimal results.
Minimize extreme angles between the face and the camera. A straight-on angle generally provides the best outcome.
If the person wears glasses, reflections on the lenses may effect Eye Contact.