Descript provides tools to assist with correcting improperly encoded files in the Media menu using the Repair file (beta) option.
Repair video timestamps
Repair video timestamps can help if a specific file is causing issues with playback, exporting or publishing, audio drift, and more. Some example issues are:
Black frames appearing instead of the video content.
A/V sync issues after exporting your video, or playback failure in the editor when optimize videos for playback is disabled.
Issues caused by file format and video codec combinations.
Not being able to export or publish your project.
Repair video timestamps on a file in the Media Library
Select and open the  Media library and the top of the editor.
In the Files tab, locate the video file you are having issues with.
Select and choose Repair video timestamps.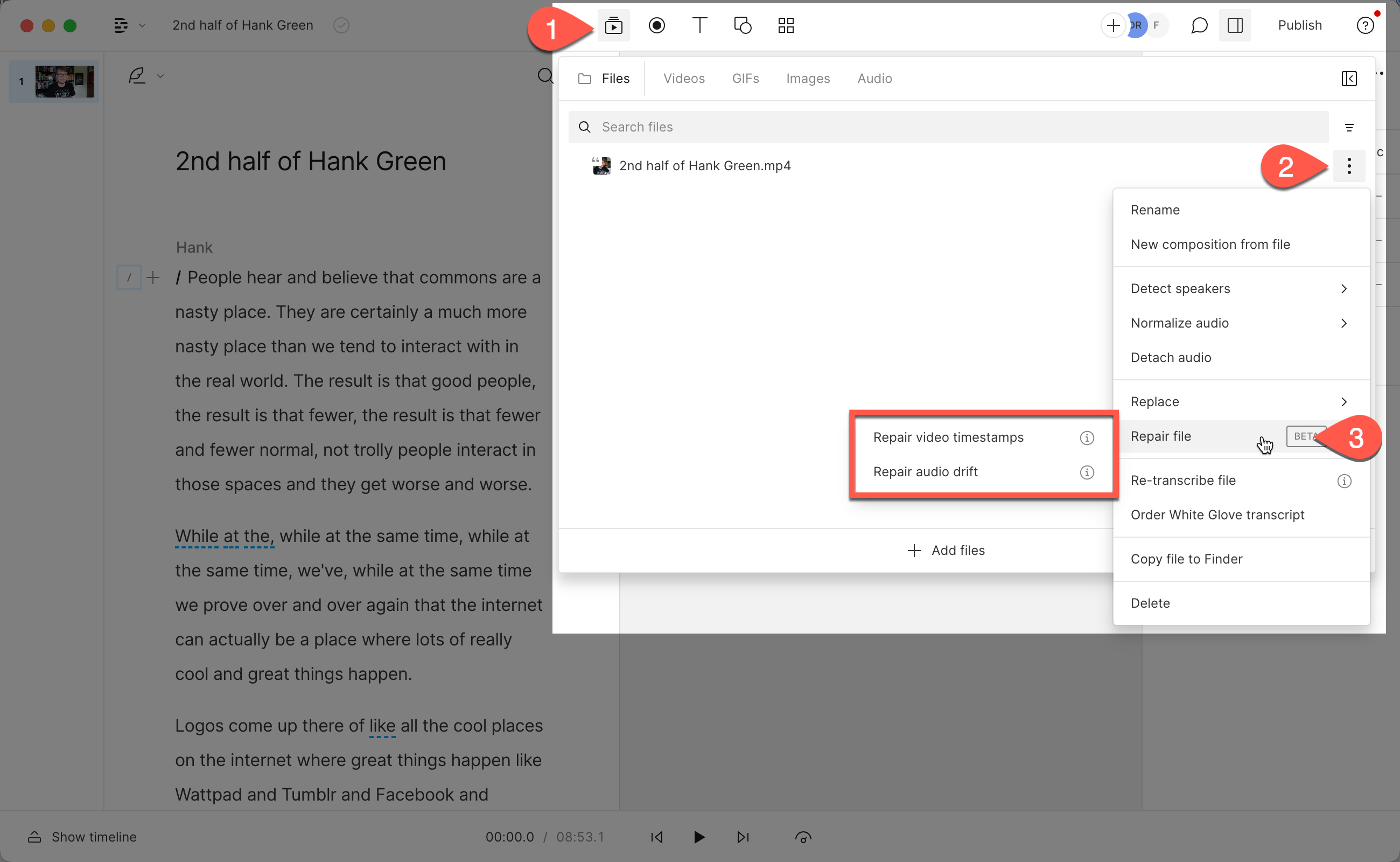 Repair audio drift
Have you ever noticed an unexpected echo effect after enabling Studio Sound on one of your videos? Does the audio on your video slowly go out of sync over time? 
There is a known bug in the Chrome browser (on macOS and Windows) that causes these types of file encoding issues. Descript's "Repair audio drift" feature can help mitigate the effects of this encoding error allowing your audio to play back normally.
Repair audio drift on a file in the Media Library
Open the Media menu and locate the source file that is exhibiting the drift issues in the list.
To the right of your file name, click the ellipsis button > Repair file (Beta) > Repair audio drift.
Descript will begin downloading the source audio if it's not already available, and then apply the repair.
Once complete, you'll receive a notification that the source file has been replaced with the updated version.