For now, Overdub is only available in English.
Descript's Overdub uses AI text-to-speech technology to create an ultra-realistic clone of your voice, so you can type to create audio using your own voice or one of our stock voices. Overdub makes correcting your recordings as simple as editing text. You can even use Overdub to create voice overs or other audio content from scratch.
How to use Overdub
1. Assign a voice to a speaker label
Click on a speaker label and select one of the suggested speaker labels; you can choose your Overdub voice (if you've created it) and our stock voices.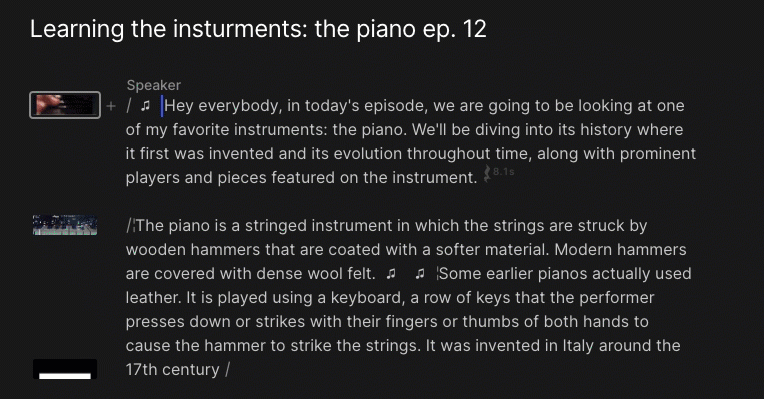 To further manage your speaker labels and Overdub voices, click a speaker label and select

; this will open the Manage speakers menu where you can edit labels, create new ones, and link Overdub voices.
2. Add Overdub to your composition
Once you've assigned an Overdub voice to a speaker label, there are two ways to use Overdub:
Descript may automatically replace the words surrounding your selection with Overdub audio. This happens when the Overdub audio audio you're creating blends in with surrounding audio (there is not a clear space between the words). You can always adjust the crossover point in the timeline.
Generate new audio content: enable the writing tool and start typing. Your Overdub should begin generating after a few moments.

If you do not have an Overdub voice linked to your speaker label, typing in Write mode will generate placeholder text.