Descript offers you a wide range of options to add videos, audios, and images to your compositions.
Layers vs script
To get the most out of making content in Descript, it's important to understand the difference between layers and your projects script:
The script holds all underlying elements and media used for script editing in Descript. The script keeps all of your visuals, audio, and scenes aligned in your project and usually contains transcribed video or audio.

Layers are the visual and audio content that you add over your script content. Typically, this will be any non-transcribed media you want to add you your composition (b-roll, music, captions, sound effects, etc.)
You can clearly see the difference between added layers and your script from the Timeline.
Add video, audio, and image layers to your content
You can add video, audio, and images to your Descript project in several ways:
Recording directly in the main editor (video and audio only).
Importing project files or stock video and audio from the Media Library.
Dragging and dropping or uploading video files directly into your composition.
Using the selection toolbar.
Managing Layer Order
You can rearrange visual layers in your scene either from the Canvas or the Timeline:
From the Canvas
After adding a visual layer to your scene, you can adjust its position by right-clicking on it and selecting its new location in the scene from the Canvas. You can do this for different visual types such as shapes, waveforms, progress bars, and text.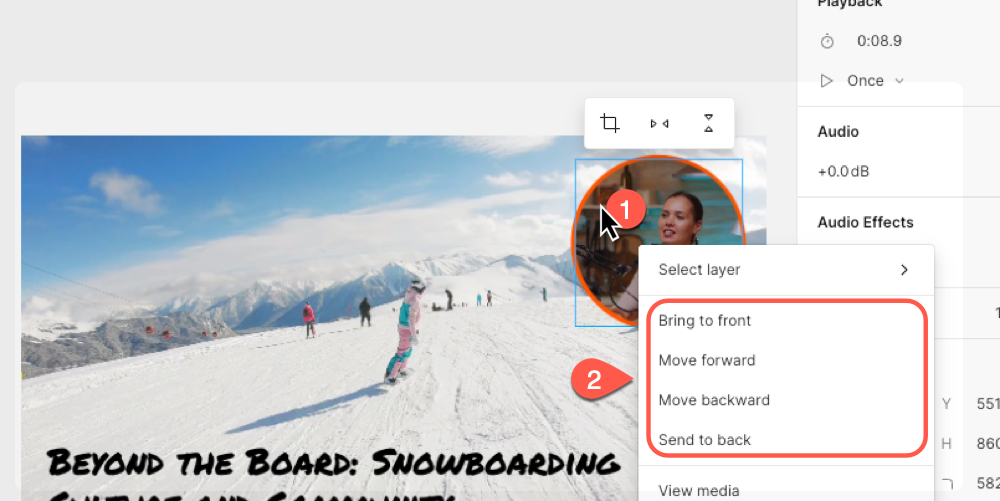 From the Timeline
Right-click on any visual layer and select its new location from the menu options. If you have Show timeline enabled, you can simply click and drag the layer to adjust its order.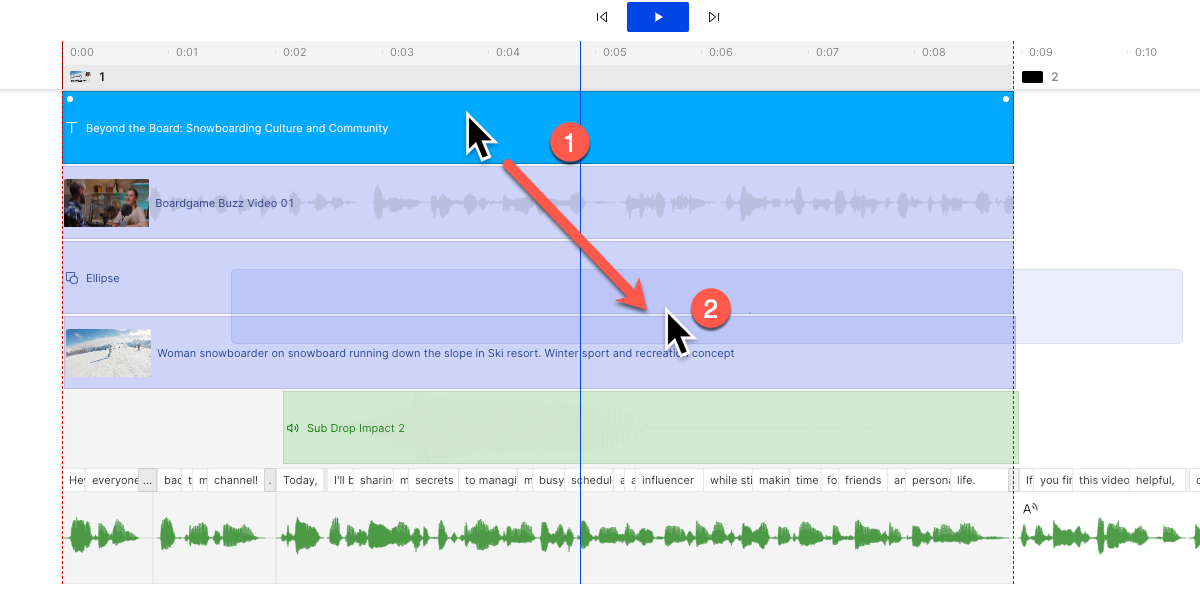 Removing a layer
To remove a layer from a scene, select it in your Script Editor, Timeline, or Canvas, and press Mac: delete or Windows: backspace. For deleting a layers spanning multiple scenes, select it in the Timeline and press delete or Windows: backspace.
Modifying layer properties
When you select a layer, you can customize its settings from the Properties Panel. Additionally, you can adjust the start time, duration, speed, and volume of individual clips.