Descript lets you publish videos directly to your YouTube channels. Creator and Free plans may publish videos up to 1 hour. Pro and Enterprise plans may publish videos up to 3 hours. Publishing a video exceeding the length limitation will be published as audio only.
Video resolution
Free users can publish videos up to 720p.
Creator, Pro, and Enterprise users can publish videos up to 4k.
Please note that you will need to set your video resolution from your composition's aspect ratio and video settings.
Publishing your video
Select Publish.
Open the Publish tab.
Select YouTube from the dropdown menu.
Customize your video settings
You may need to sign into your Google account:

Select and a webpage will open that asks to grant Descript access
Select Allow.
If you have multiple YouTube channel under the email, you'll then be asked choose your account or a brand account. You'll be prompted to open Descript.
Open the app.

Select .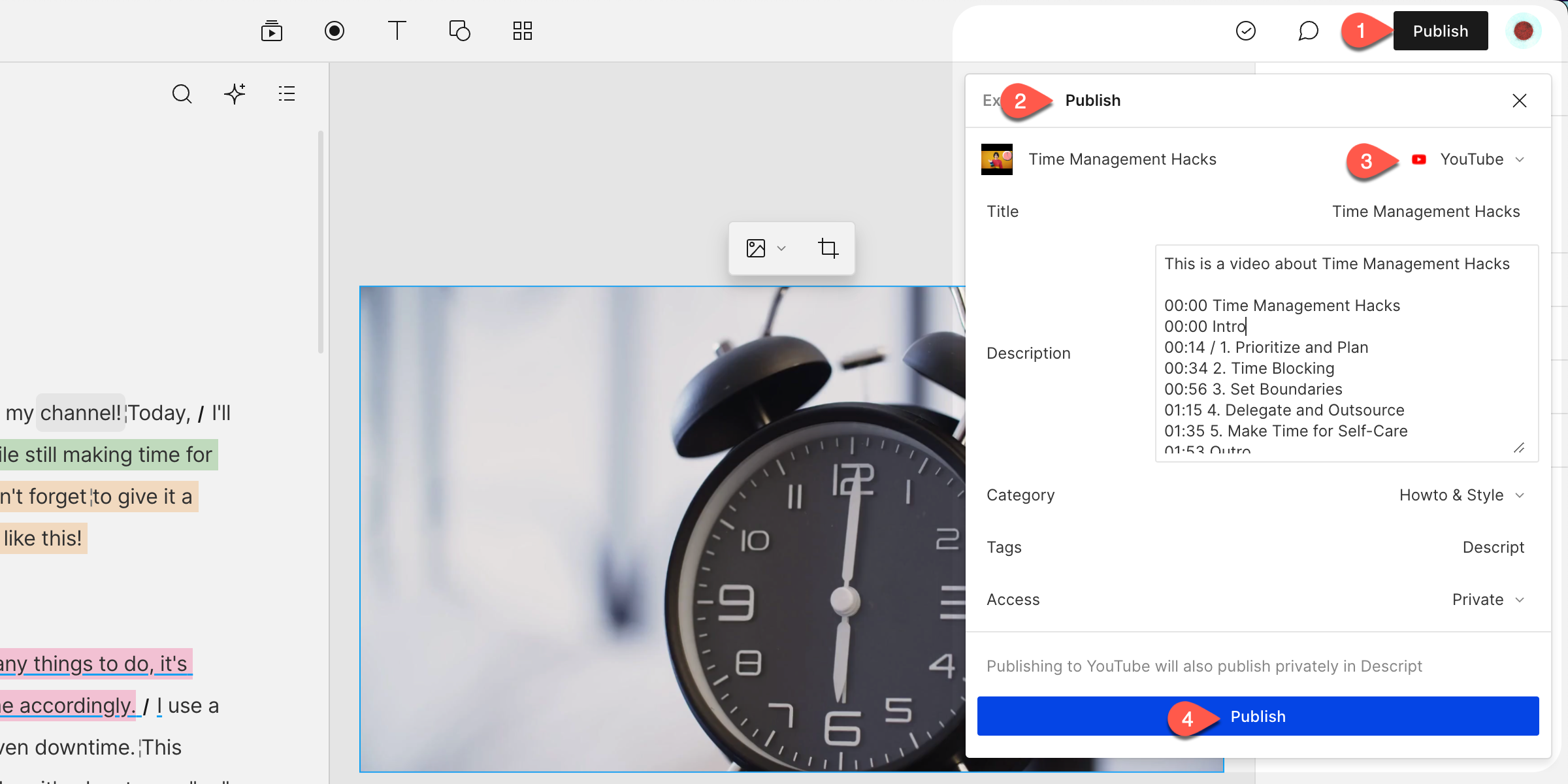 YouTube publishing settings
| Setting | Description |
| --- | --- |
| Access | Set the YouTube privacy setting of your video |
| Title | The title of your video |
| Title (next to thumbnail) | Title of your Descript published page |
| Description | Info that shows below your video |
| Category | Select a category so viewers can find your video more easily |
| Tags | Add descriptive keywords to help with search |
Title length limit when publishing to YouTube
Please note that Youtube's title have a maximum length of 100 characters and must contain all valid UTF-8 characters except < and >. If your video title exceeds that character limit or invalid characters, your publish will fail.
Adding a thumbnail
By default, your page's thumbnail will be the first frame of your video. You can customize the thumbnail by clicking on its preview image.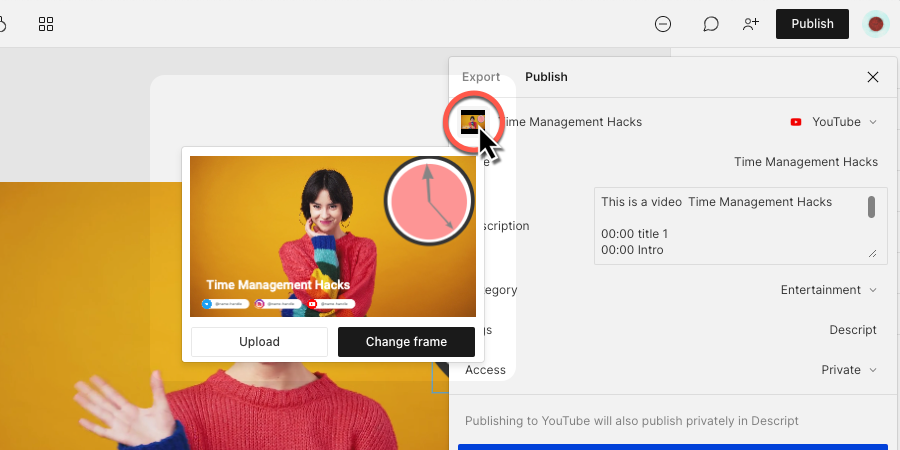 Use a frame from your video
Click on the thumbnail in the publish panel.
Select Change frame.
Use the slider at the bottom of the video preview to move through your video.
Once you find the frame you want to use, select Use frame.
Upload a custom thumbnail
Click on the thumbnail in the publish panel.
Select Upload.
Choose the image you want to use.
Create video chapters
Any markers in your composition will automatically be converted to Video Chapters when you publish directly to YouTube. Learn about adding markers to your content.
Reset Google access permissions
If you would like to remove Descript's access permissions., you can do so from your Google account settings. Learn more about Managing third-party access to your Google account.