Descript allows you to work with multicam footage without sacrificing the simplicity of text-based editing. We do this by grouping files into sequences. Think of a sequence as a virtual container that keeps grouped tracks in sync while you edit. You can adjust a sequence's visual arrangement to show different speakers in each scene and create multicam layouts across your composition.
1. Create a sequence
Creating a sequence from imported files
Open or create a new

project

.
Add the media files into your composition at the same time. When prompted, make sure to add your speaker labels, set the transcription language, and select Combine files into a multitrack sequence.
You can adjust the position of tracks in your sequence from the Sequence Editor. This is helpful if you need to sync files to have the same start or end times.
Creating a sequence from the Media Library
If you have already imported project files, you can create a sequence from the Media Library:
Open the Media Library at the top of your editor screen and view the Files tab.
Select the files you want to include in your sequence.
Create the sequence:

If you haven't transcribed the files, right-click with the selected files and choose Transcribe files. Next, select Create multi-track sequence and then select Done.

Now you'll see the Sequence Editor. Make any necessary edits in the sequence editor and select Done in the top right corner.
Re-open the Media Library and view the Files tab.
2. Arrange your footage
Once you've added your sequence to a composition, you should see the transcription of all the files in your Script Editor and the video layers on the Canvas. Now you can adjust the layout of the videos of your sequence.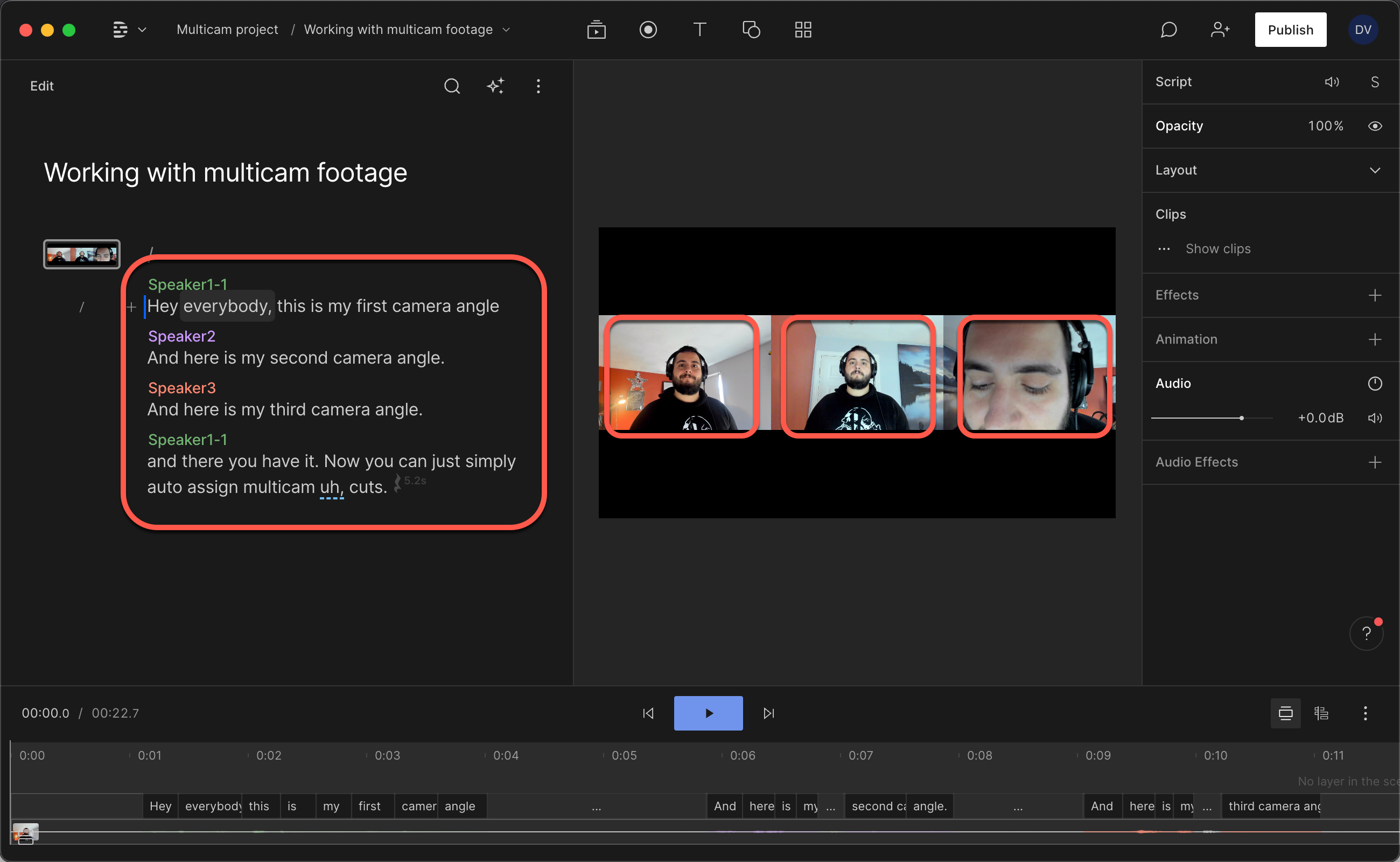 Add scenes by active speaker
If you want to quickly add scenes based on who is speaking, select

and choose to Add scenes by active speaker. This will create scenes every time a speaker starts talking and will display that person's video layer.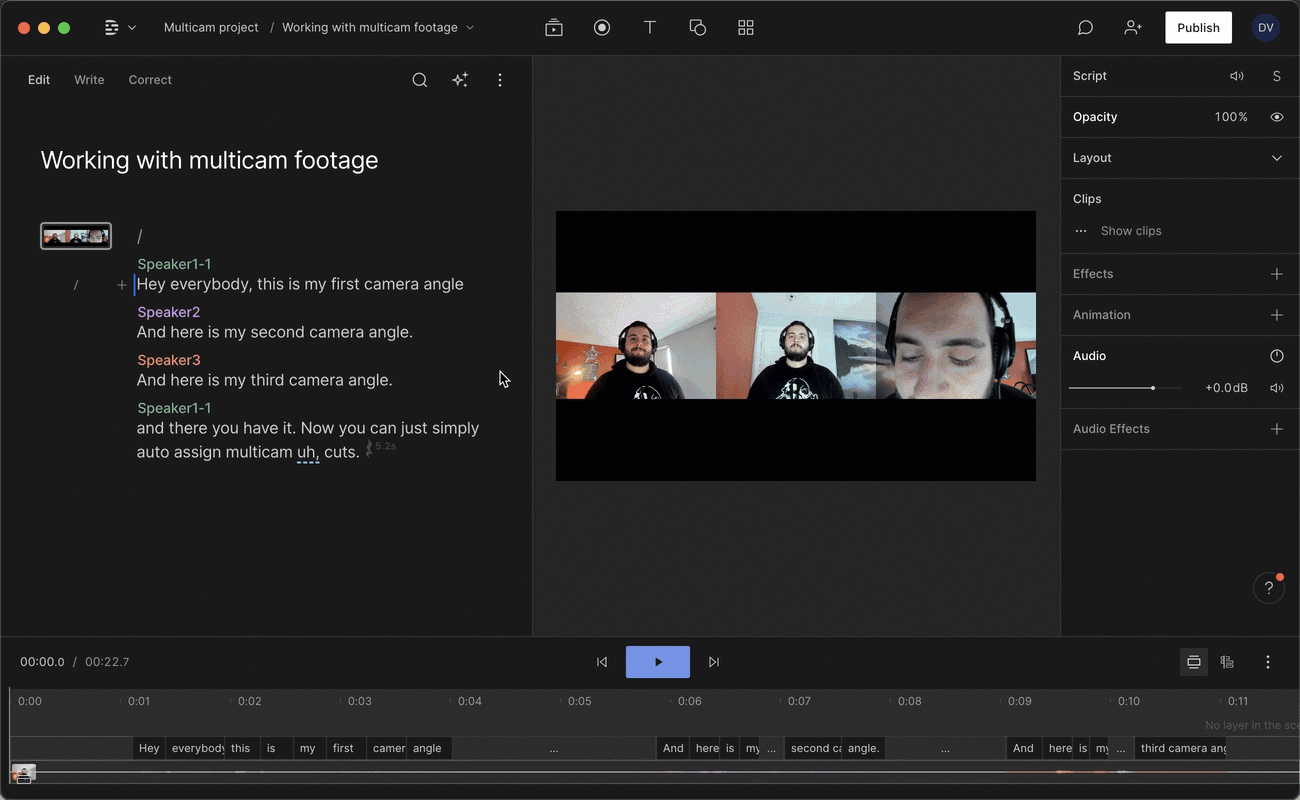 Displaying videos from your sequence
You can choose which video layers to display from your sequence and arrange them in a variety of layouts. To remove a video layer:
Select the video in the Canvas.
To display an additional video layer from your sequence:
Select a sequence video in your Canvas.
Click the + in the Multi-cam section of the

Properties Panel

and choose the additional sequence video you want to display.
Position and resize the videos in your scene from the Canvas.
Add scenes to your composition
Anytime you would like your visuals to change — for example, if you want to cut to a different speaker or change the visual layout, you'll need to add a scene break.
The quickest way to add scenes when working with multicam footage is to use the add scenes by active speaker feature. However, if you want to manually add scenes:
Place your cursor in your Script where you want to add a scene.
Adjust the visual layout of your sequence in the new scene from the Canvas.
Set up your main layout first
we recommend that you set up your main visual layout for the sequence in the Canvas first before adding scene breaks. For example, if you know 75% of your video has two speakers side-by-side, set up that layout in the Canvas before adding additional scenes. It will speed up your editing process.
Bonus tip: copy and paste scene layouts
Once you've created the visual layout of your sequence for a scene, you can copy and paste the visual properties of that scene onto other scenes in your composition. Copying and pasting layouts is a great way to speed up your workflow. To copy and paste a scene:
Select a

scene thumbnail

.
Right-click and select Copy.
Select another scene
Right-click and select Paste.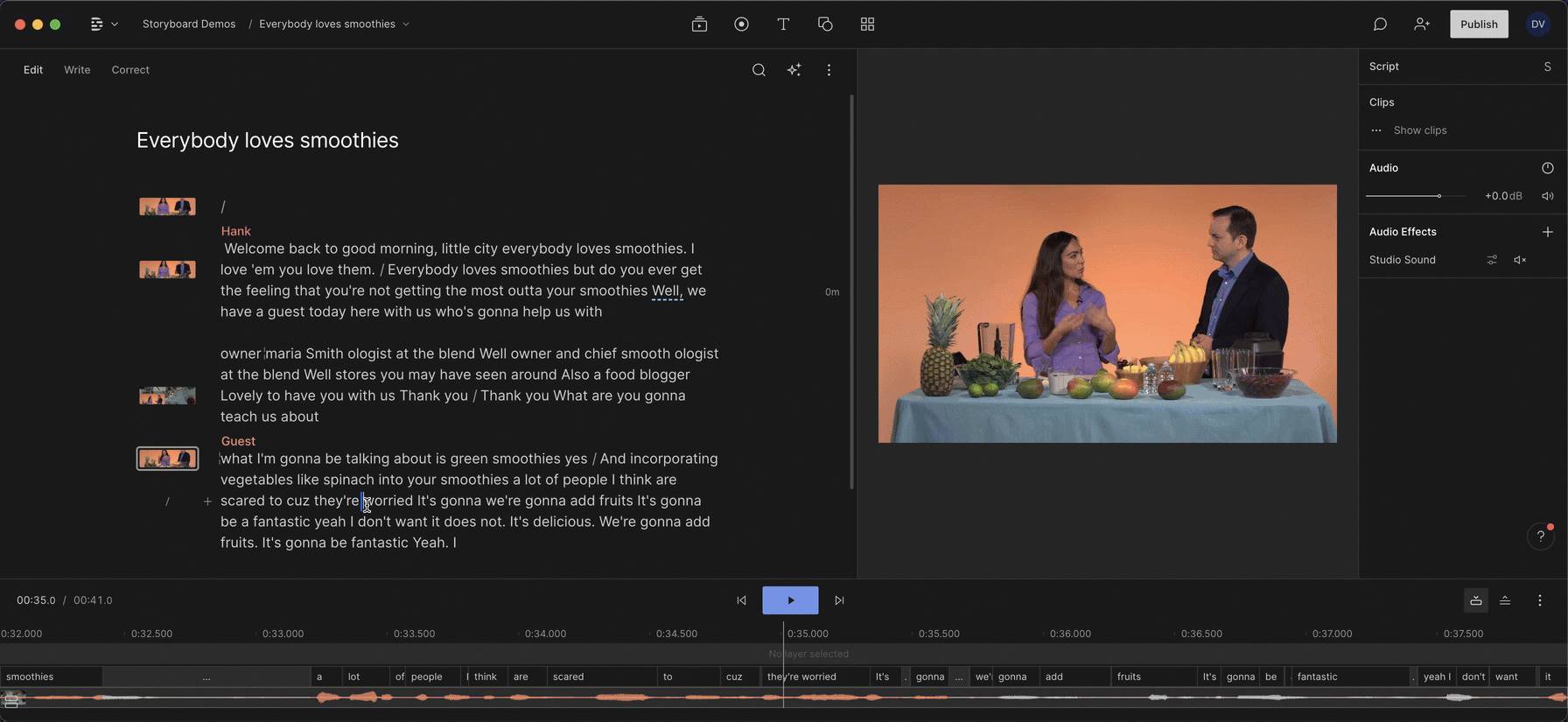 3. Edit your sequence's audio
You may want to edit the audio in individual files contained in your sequence. For example:
Two speakers were talking at the same time, and you want to edit out one of them.
Your video-audio sync is out of alignment and needs to be adjusted.
You need to change the position of the tracks in your sequence.
You want to add audio effects or Studio Sound to individual tracks.
You need to change the panning or volume of individual tracks
You can make the edits listed above from the Sequence Editor. There are a few ways you can open a sequence in the sequence editor:
Double-click the sequence in your Timeline
Right-click in the timeline and choose Edit sequence.
Right-click the sequence in your media library and select Edit sequence.
Detaching audio
Depending on your task, you may need to first detach audio from a video track in your Sequence Editor.